Academics' Choice Award™ Winner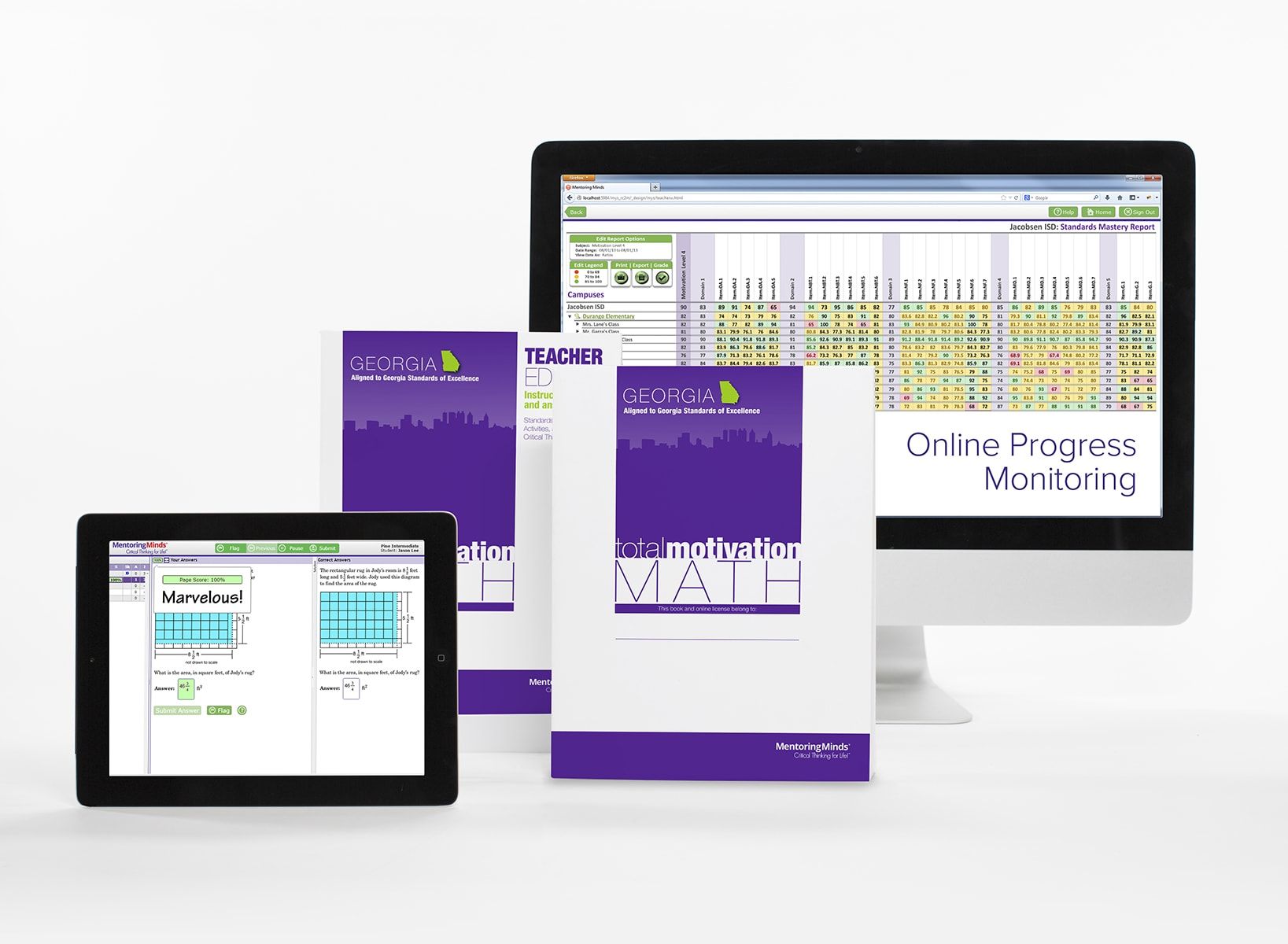 Total Motivation Math Georgia
Ages: 6 - 12
Price: $14.45 per student
Type: Book, Website, Software
By
Mentoring Minds
Description
Total Motivation Math addresses 100 percent of the Georgia Standards of Excellence (GSE) with rigorous content designed to build critical thinking skills and prepare students to excel on the Georgia Milestones Assessment. Delivered in both print and online formats, Total Motivation Math flexes to classroom needs, adapting as a supplemental curriculum, intervention resource, or even as for core instruction.

Available for grades levels 1-6, Total Motivation Math provides GSE-aligned practice with engaging content that builds students' critical thinking skills and supports cross-curricular connections. Activities in the Student Edition adapt for a variety of instructional settings, including whole-group, small-group, partner work, or independent practice, and are available in print and online.

The Teacher Edition equips educators with access to all of the Math GSE, unpacked and explained, along with a wealth of instructional strategies and research-based activities that complement the Student Edition and support teachers as they plan for instruction, intervention, formative assessment, extension, and more. With these resources at their fingertips, teachers can spend more time meeting diverse needs in the classroom and less time researching lesson plans.

Review Highlights:
Total Motivation Math Georgia is a series of book and web-based materials designed to teach critical thinking skills infused with math. This particular edition is based on the Georgia Standards of Excellence. This book series does such a great job of simplifying the often daunting task of aligning lesson plans and activities to state standards.
I love that this series uses real-life scenarios that are relatable and interesting to teach students math concepts. I love it even more that Mentoring Minds takes it a step further by integrating opportunities to foster critcal thinking skills based on Bloom's Taxonomy (analyze, apply, evaluate, synthesize, etc.). The online option is also a big plus!
Buy this product at:
As an Amazon Associate we earn from qualifying purchases.