Academics' Choice Award™ Winner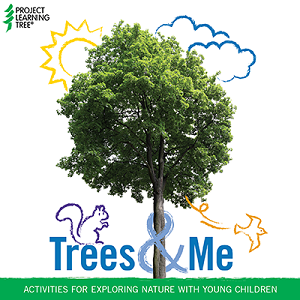 Trees & Me: Activities for Exploring Nature with Young Children
Ages: 1 - 6
Price: $24.99
Type: Book
By
Sustainable Forestry Initiative
Description
Trees & Me contains hundreds of ideas for fun, easy-to-do, hands-on experiences to connect young children to nature, with a focus on trees and forests. Through both outdoor and indoor activities, children explore nature through their senses, experience trees throughout all four seasons, and connect with their community. The 12 Trees & Me activities are designed for families and teachers to use with children ages 1-6 in a range of settings, including preschools, childcare centers, and nature centers, at home, or with families and friends spending time together. Special instructions tailor many experiences to children under 3 years of age.

Trees & Me activities are designed for ease of use. Each activity contains background information for adults, preparation steps, and materials needed to lead each experience. Group experiences, such as Exploring the Neighborhood and Enjoying Snacks Together, encourage conversation and interaction with others, and free exploration experiences suggest ways children can explore topics on their own through Art, Outdoor Play, Discovery Tables, Math and Manipulatives, Dramatic Play, and Woodworking.



Review Highlights:
Trees & Me is full of material that brings children and nature together. Inside, you will find activities that encourage children to explore nature and it's many sounds, colors, shapes, smells, taste, seasons, and so much more. Rainy day? No problem - teachers can count on Trees & Me for both outdoor AND indoor fun activities for young children that help improve physical and emotional states and encourage positive social behavior. This booklet will help children learn from the greatest teacher of all: Nature. Please note that this book is written for adults/teachers.
The book provides very detailed instructions of many activities for children 1-6. It also highlights resources for younger kids. It guides you to various activities within a theme. Some activities are quite creative, and would likely spark interests for kids playing outdoor.
With the activity ideas presented students will learn and practice math, reading, critical thinking skills (observation and analysis), forest literacy, sounds, shapes, color, etc.
Buy this product at:
As an Amazon Associate we earn from qualifying purchases.