Academics' Choice Award™ Winner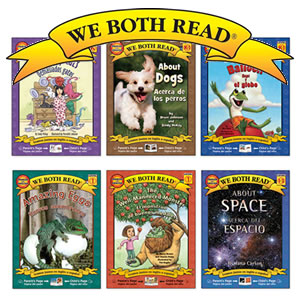 We Both Read
Ages: 4 - 8
Price: $4.99 (single book); $299.40 (complete set of 60 titles)
Type: Book
By
Treasure Bay
Description
The We Both Read books are designed to engage children and parents in reading together. The concept of the series is simple: each book is specially formatted for a parent and child to take turns reading aloud alternate pages. The parent's pages feature higher level text, while the child's pages feature text that matches the child's reading level.

This shared experience reduces the frustrations of beginning and struggling readers—and makes reading fun! Children get to practice reading at their skill level and they also have the opportunity to relax and listen as the fluent reading of more complex text is modeled for them. The result is increased comprehension, fluency, and support for their decoding skills, along with increased enthusiasm for reading. Independent research has shown that use of the We Both Read series significantly increases in reading scores.

Review Highlights:
It is no surprise that this series has been adopted by thousands of schools for buddy reading and teacher-student close reading. The format is brilliant and is obviously designed by educators and skilled, experienced individuals in the field. Books are sequenced in a ladder type approach, slowly increasing complexity for the young reader. We Both Read is a fabulous series for struggling readers and kids that just need a little more one on one than most other children. I started the series with my 5 year old and he felt so empowered after the first couple books. The rhyme scheme coupled with an image that describes the word they are expected to read is perfect for both the audible learner and visual learner. We've thoroughly enjoyed these books. Well Done, Treasure Bay!
We really liked the variety of reading levels and topics, the colorful pictures, and the interaction between the parent and child while reading the story. These stories are also great confidence builders for early/struggling readers.
Buy this product at:
As an Amazon Associate we earn from qualifying purchases.