Academics' Choice Award™ Winner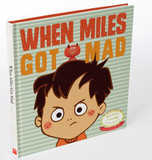 When Miles Got Mad
Ages: 3 - 7
Price: $12.95
Type: Book
By
The Mother Company
Description
In "When Miles Got Mad," kids learn how to appropriately express their anger. When his little brother breaks his favorite toy, MILES GETS MAD. As his anger swells, he catches sight of himself in the mirror - but instead of his own reflection, a furry red monster with big round eyes and funny teeth stares back at him. Miles learns that while anger can sometimes feel like a big, scary monster inside of you, "using your words" helps him calm down and manage his "Mad Monster."
Review Highlights:
This is a wonderful book for any child between the ages of 3-7. It gave my 6 year old boy some familiarity and tools to recognize and deal with his anger. We need more books like this!
Great illustrations! My son quickly identified with Miles, and I was able to use it as a point of reference when temper tantrums erupted after reading it. The lessons bestowed are spot-on. It's an effective way to teach how to manage anger and develop social skills.
Buy this product at:
As an Amazon Associate we earn from qualifying purchases.