Academics' Choice Award™ Winner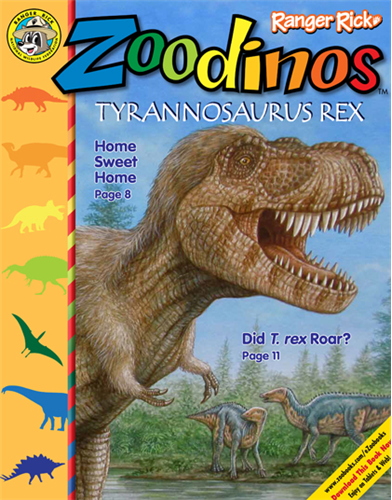 Ranger Rick Zoodinos Tyrannosaurus Rex
Ages: 5 and up
Price: $6.99
Type: Book
By
National Wildlife Federation
Description
Sink your teeth into tons of bone-crushing facts about Tyrannosaurus Rex. The book includes a wealth of information on anatomy, habits, habitat, and nesting theories, and in addition offers a fictional story, fun poetry, and entertaining activities--all richly illustrated in full color.




Review Highlights:
An informative book for your little dino-enthusiast and emerging reader! Kids learn about scientific evaluation/analysis/theory, practice reading, comprehension, focus and concentration, and expand their vocabulary.
I liked that it was very informative about the subject matter. It takes a close look at the T. rex. Did you know that it had feathers and its teeth were as sharp as railroad spikes? It talks about its home habitat and shows a timeline of when the T. rex lived. There is an interesting article on its behavior. There is also a short story called, "Hungry Tara". A short article about a fossil hunter is included. There are a couple QR Code's that your child can scan for further activities online.
This edition is easy to read. The colors and graphics are bold and large. There are many interesting facts, comments, and stories to improve reading skills and comprehension. There is timeline for older readers, as well as word games. There are additional activities, games, and knowledge quizzes online to keep the student further engaged.
Buy this product at:
As an Amazon Associate we earn from qualifying purchases.