Academics' Choice Award™ Winner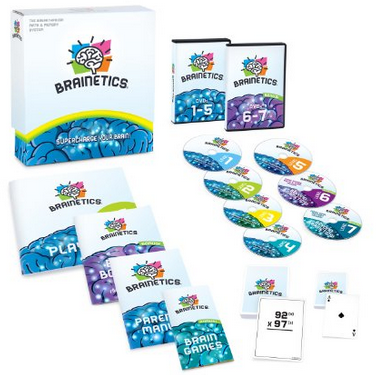 Brainetics
Ages: 9 and up
Price: $215.00
Type: DVD, Flashcards
By
Brainetics, LLC
Description
Brainetics trains your mind to focus, concentrate, improve organizational skills and memory in a really fun and cool way. It starts with math and numbers and then transfers to letters and words. Basically, Brainetics does not teach you what to learn, it teaches you how to learn and reach your full potential.
Review Highlights:
Mathematics was the focus, so that included logic, critical thinking skills and analysis. The games also created an avenue for creative play as children worked out puzzles and created their own.
I liked the way that the instructor engaged the children in the video as well as in my household. He was concise, rapidly drew them into the lesson by providing a game show atmosphere and challenging the viewers to compete against the kids in the video. And although competition was involved it was of a friendly nature. In general, the competitions were self-challenging in nature, which I like.
I think that Brainetics is a good addition to my families curriculum. The idea of training our brains to do things that we once thought were impossible is a way to boost self-confidence and to keep the mind agile. I enjoyed creating the magic squares more than my kids--it was so neat!
Buy this product at:
As an Amazon Associate we earn from qualifying purchases.