Academics' Choice Award™ Winner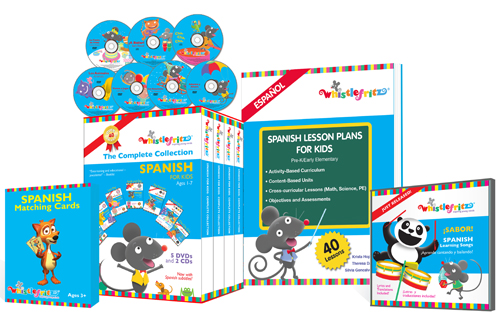 Educator's Spanish Collection
Ages: 2 - 8
Price: $160.00
Type: DVD, Audio CD, Book, Game
By
Whistlefritz
Description
Enrich your Spanish instruction with the award-winning, multi-media Educator's Collection (Spanish) from Whistlefritz. The Educator's Collection (Spanish) provides a rich and diverse set of tools for Pre-K and early elementary Spanish instruction. Developed by creative and experienced educators, Spanish Lesson Plans for Kids is a scaffolded curriculum of 40 reproducible lessons that engage children in a diverse array of interactive, age-appropriate activities. Spanish for Kids DVDs teach vocabulary through an appealing blend of live action and animation ideal for visual learners. Spanish for Kids CDs get children on their feet singing and dancing to an irresistible mix of Latin songs and rhythms. The Matching Cards are a playful introduction to action words. Packed with fun, laughter, and music, the Educator's Collection (Spanish) is a treasure trove of teaching activities and materials for the Spanish classroom!

SIX TIPS FOR ENSURING SECOND LANGUAGE LEARNING SUCCESS FOR KIDS

Learning a second language in early childhood offers a lifetime of benefits for a child. Research shows that learning a second language at an early age has positive effects on a child's intellectual growth and cognitive development. It sharpens a child's overall literacy skills and helps the child develop a greater sensitivity to language, a better ear for listening, and a stronger appreciation for other cultures.

To ensure early second language learning success, parents and teachers should:

1. Expose children to a second language early when the brain is most receptive to language development. Research shows that a critical "window of opportunity" for language learning occurs in early childhood. During this period, children can learn a second language just as naturally as their first and with native-like fluency.

2. Skip the translation! While parents may be tempted to translate words into and out of English when teaching a second language, translation can actually delay a child's acquisition of a second language. Skipping the translation stage is the key to fluency. Children can achieve fluency more quickly and more permanently by learning words directly from images and context.

3. Teach children a second language using "immersion." Leading language experts have demonstrated that complete immersion in the second language (i.e. speaking and hearing only the second language for a period of time) is the most efficient and effective way to get children thinking and speaking a second language.

4. Expose children to a second language as spoken by native speakers. Children who are exposed early to a second language can develop a native-like fluency that adults and older children can never match. Parents who are not native speakers themselves can expose their children to the sounds of a native speaker through language classes, DVDs, and CDs.

5. Repetition is the key to language learning. Children need to be exposed to words repeatedly to gain mastery of them. Ideally, children should be exposed to similar words in different contexts (e.g. through songs, skits, poems, and stories) to build and reinforce the vocabulary.

6. Offer an immersion program that is compelling and kid-friendly! Whether introduced in the classroom, at home, or on DVD, a good language program should be able to entertain and educate young learners with themes, songs, stories and characters that are uniquely appealing to children. Captivating children's interest is essential to creating an environment that promotes an enjoyable and effective learning experience for children.
Review Highlights:
These Spanish lessons are cross-curricular and include subjects such as math, science and physical education. Both fine and gross motor skills are practiced throughout the book, CDs and DVDs. Overall, children are encouraged to practice a wide range of skills. There is clearly much to be learned, and the skills are covered in each of the lesson plans.
The scope and sequence of topics relate to children and their interests while including cross-curricular lessons. This curriculum offers a lot of necessary repetition in interesting and imaginative ways. The graphics are simple, large and easy to look at. Fritzi, the mouse, is an adventurous fun-loving character that captivates and entertains. The music on the CDs is authentic, festive and engaging.
My eight year old daughter couldn't take her eyes off the DVD. She was excited when she knew the words they were saying, and she was clearly engaged.
Buy this product at:
As an Amazon Associate we earn from qualifying purchases.