Academics' Choice Award™ Winner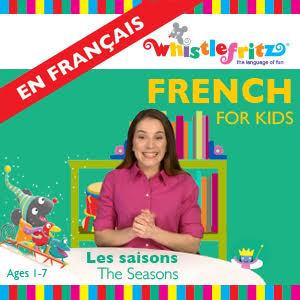 French for Kids: Les Saisons (The Seasons)
Ages: 1 - 7
Price: $19.99
Type: DVD, Audio
By
Whistlefritz
Description
Children love a birthday party, especially when it's their own. But when is Fritzi's birthday? Join the fun-loving Fritzi the mouse and his friend Marie for Les Saisons (The Seasons), a festive sing-along, dance-along introduction to French language-learning. From l'hiver (winter) to l'automne (autumn), it's a year-round celebration as children learn words and phrases associated with all four seasons. This lively interactive French immersion program engages children with colorful backgrounds, animated characters, catchy original songs, and live-action footage of familiar year-round activities, including sledding and snowball throwing, splashing in puddles, swimming, playing in leaves, and trick-or-treating. Upbeat live-action speakers introduce and reinforce basic French words and phrases through call-and-response and repetition. The video includes an easy-to-use translation guide for parents and teachers, as well as French and English subtitles. Designed for ages 1-7, Les Saisons is fun for all ages! Make a playdate with Fritzi and friends for this delightful addition to Whistlefritz's award-winning French for Kids series.

Review Highlights:
The DVD was age appropriate, short, educational, and engaging. It's an outstanding audio-visual course for introducing young children to the French language.
We really liked Les Saisons! The story was easy to follow and my son was captivated by the mixture of animation and real live characters. The immersion approach can be difficult for some, but Marie pronounced all words slowly and the vocabulary/images were all shown in context to help in comprehension. This is a fun and upbeat way to introduce French to the little ones. My son has already retained the names of all four seasons and several other words (swimming, splashing, and more)!
Buy this product at:
As an Amazon Associate we earn from qualifying purchases.