Academics' Choice Award™ Winner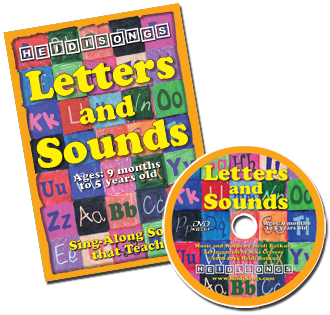 Letters & Sounds - Animated DVD
Ages: 9 months - 5
Price: $15.00
Type: DVD
By
HeidiSongs
Description
DVD Video with Sing-Along Songs and animated characters to help kids learn the Alphabet, Letter Sounds, Letter Formation! There is a unique song for every letter of the alphabet and includes the sound of the letter, and a reference to what the letter looks like or how it is formed. With the letters written out onscreen and fun movements choreographed to help with memorization, these fun songs help children easily memorize both the upper and lower case letters of the alphabet as they begin reading.
Review Highlights:
I loved watching my 3 year old and 7 month old grandsons watching my granddaughter say the sounds, and use her hands to copy the person on the screen to form the letters. My 3 year old granddaughter asks for this video everyday. She is singing the songs she is learning, plus learning the sounds and shapes of the letters.
I love the entire video. It is easy to learn the words to the songs with the on-screen lyrics. Being set to known nursery rhymes also helps my youngster hold on to the memory of the song and what letter the song is teaching her.
Buy this product at:
As an Amazon Associate we earn from qualifying purchases.