Academics' Choice Award™ Winner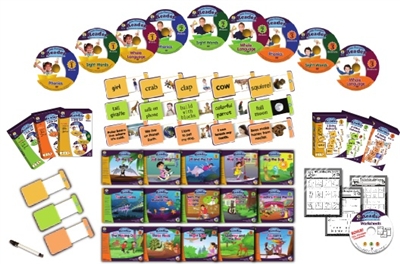 Little Champion Reader
Ages: 3 months - 7 years
Price: $99.99
Type: DVD, Books, Flashcards
By
Kiddie Katchwords LLC
Description
Children are most likely to become successful readers when they're taught using a combination of three research-proven techniques: Phonics, Sight Word Memorization and Whole Language. Each technique has its own unique set of benefits, so why limit your child to one technique alone? Help your child maximize on their reading potential by giving them the advantage of all three techniques right from the start! Little Champion Reader 3-Level Reading Kit saves you the hassle of compiling from different sources by integrating these 3 techniques into one complete system! It teaches a total of 800+ words, 250+ phrases and 250+ sentences, all within a short time-span, helping increase your child's reading fluency and skills. The result? Reading success without the struggle.
Review Highlights:
As a long time classroom teacher, and father of a 7 year old, I can comfortably say that Little Champion Reader is one of the best all-in-one reading programs on the market today. It combines 3 research-based methods of teaching reading: phonics, sight words, and whole language. This program comes in a single, well constructed box that is packed with reading tools. 9 DVD's, 15 short phonics books, 15 laminated cardboard flash cards, and a CD with 150 printable worksheets are included in the set. The font is clear, the color scheme is nice, and the content is rich. The instruction manual outlines possible approaches to this set but also considers other ways of learning as well. Images along with suggested scope and sequence are presented in this manual. I'd recommend this product to any parent or teacher looking for an all-in-one resource to teach reading.
My 4 year old loved the books and especially the DVDs. He loved the animated stories and nursery rhymes. Although we are nowhere near completing this curriculum, I know he is getting a lot out of it.
I liked all the different ways of teaching my son how to read.
Buy this product at:
As an Amazon Associate we earn from qualifying purchases.