Academics' Choice Award™ Winner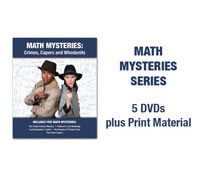 Math Mysteries: Crimes, Capers and Whodunits
Ages: 10 - 15
Price: $64.99 or $249.95 for all 5
Type: DVD, Book
By
Human Relations Media
Description
Math Mysteries: Crimes, Capers and Whodunits is a series of five interactive mysteries designed to integrate Common Core State Standards (CCSS) in mathematics with engaging mysteries for students to unravel. Because each mystery incorporates a range of appealing skills applications, it is ideal for review, skills recovery, and enrichment purposes.

Let your students apply their math skills to real world problems as they solve intriguing mysteries and whodunits. Super sleuths from the Pi Detective Agency have gathered data and clues from unsolved cases. Your students will need to sift through written case files, dissect video interviews with possible suspects, test theories and more as they apply their content knowledge to a variety of engaging mathematical challenges.

The student activities and the workbook help scaffold learners towards solving the crime, grabbing the reward, catching the crook and finding the treasure!

Aligned with Common Core Standards, the mysteries cover 5 domains and 35 unique standards.
Review Highlights:
I liked the interactive way that the material was presented. It was interesting to the kids and to me as their teacher.
As a homeschool mom, I think this is a fun and innovative product for practicing and teaching math skills. This teaches math skills in a creative way by having kids solve mysteries. They are excited to solve the problems that go along with the mystery because they are interested in learning the solution. They are fun and my kids wanted to keep doing more of them!
This is a great product that I think many would enjoy!
I liked the idea of the DVD's to help make the mysteries and math come alive with more of a story format. It was easy to use. Loved the teacher guide with all of the worksheets as well to help explain and support both student and teacher. I am terrible at math but there was great help within the book. It made it a lot easier. We will definitely use this more.
Buy this product at:
As an Amazon Associate we earn from qualifying purchases.