Academics' Choice Award™ Winner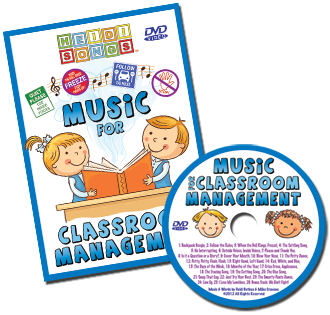 Music for Classroom Management
Ages: 3 - 8
Price: $15.00
Type: DVD
By
HeidiSongs
Description
The new, animated Music for Classroom Management DVD is perfect for teachers that are looking for a musical way to help children learn and review classroom rules and procedures. The song "Follow the Rules" reviews some very basic rules that are probably taught in most classrooms, such as following directions, listening to the teacher, being nice to everyone, and keeping your hands to yourself. The Tattling Song teaches kids when it is appropriate to speak up, and when they should not. This is a wonderfully useful DVD for the novice and the experienced teacher alike!
Review Highlights:
As an elementary school teacher of 20+ years I always dreaded going through the basics like what a backpack is for, inside voices and following basic rules. This CD addresses all of those and more in a song. My 1st and 2nd grade students enjoyed the songs and felt empowered because they already knew a lot of the topics covered. The songs are very informational and and fun to sing along with. I think I'd use this CD in the beginning of the year to start conversation about basic classroom etiquette and manners. I highly recommend this song for anyone who teaches k-2.
Buy this product at:
As an Amazon Associate we earn from qualifying purchases.