Academics' Choice Award™ Winner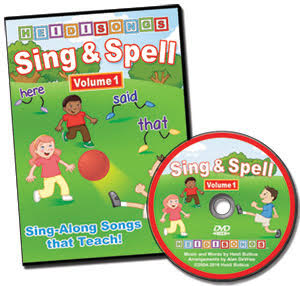 Sing & Spell the Sight Words - Volume 1 - Animated DVD
Ages: 4 - 8
Price: $15.00
Type: DVD, Audio
By
HeidiSongs
Description
A new Video DVD from HeidiSongs with fun, child-friendly, animated graphics that help encourage participation and in combination with the easily memorized, catchy music, are guaranteed to get your kids to recognize and know these sight words: And, Are, Can, For, Go, Have, He, Here, Is, Like, Me, My, Of, On, Play, Said, See, She, That, The, They, To, Was, With, You and a Period Song.

This set of songs was written to help children memorize the spellings of the first 25 high frequency words presented in most children's reading programs. The DVD uses a simultaneous multi-sensory approach to teaching children to see, hear, say, and act out a word and its spelling in a fun and motivational way. Which takes advantage of most children's natural love of music, rhythm, and movement!
Review Highlights:
Memorizing sight words is a core skill essential for learning to read, It is one of necessary components to a successful reading program. This program allows for engaging and entertaining viewing while learning sight words at the same time. Many children need to hear and see the many times before it is committed to their long term memory. This program is designed so children will want to watch again and again, thus reaching the number of repetitions a child needs for enduring reading success.
This DVD series teaches the spelling of basic words through song and actions. The repetition helps the viewer to memorize the word spelling and the action keeps younger viewers engaged.
The songs were engaging and age appropriate. The kids really enjoyed them.
The songs are catchy and contemporary, very appealing for the intended audience. The songs and singers were engaging, fun to watch.
Young children love to sing and it is a great way to transfer information from short term to long term memory. Hearing the lyrics can lead them to retrieve the information easily, in the same way the "alphabet" song helps students recall individual letter names.
Buy this product at:
As an Amazon Associate we earn from qualifying purchases.