Academics' Choice Award™ Winner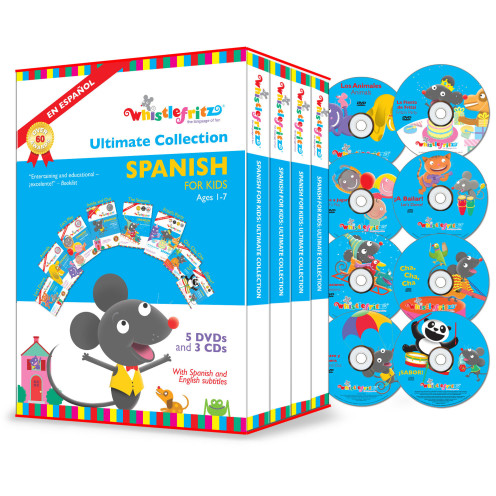 Spanish for Kids: The Ultimate Collection
Ages: 2 - 7
Price: $115.00
Type: DVD, Audio CD, Book
By
Whistlefritz
Description
Join the language-learning celebration with this entertaining combination of live action, animation, and festive Latin music that teaches children Spanish! From numbers and letters to the seasons and birthdays, these videos offer a playful introduction to Spanish. The CDs keep the language fun going with an irresistible mix of Latin rhythms that get children on their feet dancing and singing. The Ultimate Collection features Spanish and English subtitles for adult learners, and translation guides and lyrics are easily downloadable from the Whistlefritz website. Packed with fun, laughter, and music, The Ultimate Collection is an ideal introduction to Spanish for young children!

Review Highlights:
It was fun and engaging. My kids (age 2-9) all really got into it. And I enjoyed watching it and dusting off my very rusty Spanish skills. I like that they speak Spanish in full sentences, but show visuals of the vocabulary words. My kids were picking up a lot that wasn't even being taught, and understood a surprising amount, even after just one viewing. I also like that they included the Spanish audio CD's. We had some really fun dance parties and I thought it was a great opportunity to introduce another culture's music.
The Spanish being taught was simple, but the kids seemed to enjoy it. I liked the catchy music and the repetitive nature of the speaking. I'll continue using these videos with my younger kids.
Great product! We are excited to continue to work on our Spanish and learn with Whistlefritz.
Buy this product at:
As an Amazon Associate we earn from qualifying purchases.