Academics' Choice Award™ Winner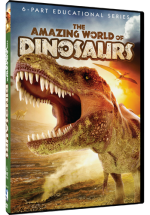 The Amazing World of Dinosaurs
Ages: 8 - 14
Price: $9.98
Type: DVD
By
Mill Creek Entertainment
Description
Join Anna and Tyler, your teenage hosts, as they take kids on a prehistoric journey to learn everything they ever wanted to know about dinosaurs. Dinosaurs were, by far, the most diverse and amazing animals that ever walked the earth. Some dinosaurs were as big as trees ... Others were smaller than a chicken ... Some had big sharp teeth ... Some had hundreds of tiny flat teeth ... And some had feathers while others had scales. Because of this diversity, dinosaurs were the most successful land dwelling animals that ever lived. They lived everywhere on the earth in every type of environment ... They adapted to almost any condition. They were some of the first creatures that lived on Earth.

Six educational, interactive and fun programs that teach kids all about dinosaurs:
- Program 1: The Rise of Dinosaurs
- Program 2: T-Rex and the Meat Eaters
- Program 3: Sauropods and the Plant Eaters
- Program 4: Dinosaur Eggs and Babies
- Program 5: Digging Up Dinosaurs
- Program 6: A Day at the Museum
Review Highlights:
I watched this DVD with my 6 year old boy. He thoroughly enjoyed every minute of it! "The Amazing World of Dinosaurs" is packed with so much information it is almost overwhelming. The T-Rex episode was his favorite, of course. We'd recommend this DVD to any dinosaur lover over the age of 6.
Buy this product at:
As an Amazon Associate we earn from qualifying purchases.