Academics' Choice Award™ Winner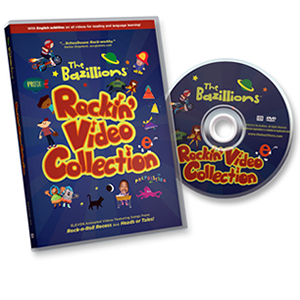 The Bazillions Rockin' Video Collection DVD
Ages: 5 - 9
Price: $11.99
Type: DVD, Songs
By
The Bazillions
Description
What do you get when you combine top-notch songwriting, clever teaching, and hip high-quality animation? You get The Bazillions Rockin' Video Collection, the complete set of videos that have rocked out to the tune of over 1.7 million YouTube views in homes and classrooms around the world.

Created over four years with songs spanning two critically-acclaimed "kindie rock" albums, The Bazillions Rockin' Video Collection combines music and learning in the spirit of Schoolhouse Rock and classic Sesame Street. Follow the adventures of Simile Girl and Metaphor Man, blast off on a Super Sonic Rocket Bike, and get ready to dance like a scalene triangle!

Here's just a few messages from our fans:

"You guys have changed the face of my English teaching over these past few years - Preposition has become an epic in Year 4 at EFPS, Essex, UK!! Thank you!"

"I came across your work on Roku and my 4 years old non-verbal autistic son is in loveee with the videos, singing the songs daily. Thank you for putting a smile on my kid's face daily through your music."

"I heard a lot of preposition songs, but this one is by far the best! This will totally help me with my test!"

"I listened to this song in preparation for a military linguistics test, and it helped me more than Schoolhouse Rock! Great job, guys! I am definitely showing this to my children someday. Keep it up."

"My 14 month old also LOVES the Bazillions videos on the Roku. She gets the hugest smile on her face as soon as she sees the intro for Counting On A Friend."

"The Preposition Song...a masterpiece! In 22 years of teaching, nothing else has cemented this skill in my students' minds the way your song has. You're the Schoolhouse Rock of the new generation. THANK YOU!"

----- Keep up with The Bazillions at facebook.com/thebazillions and http://www.thebazillions.com
Review Highlights:
The tunes were catchy and help with topic mastery.
The DVD reviewed content appropriate for an elementary school student.
The animated videos and songs were engaging and provided a great multisensory approach to learning content that is often considerd 'boring.'
I used the DVD to introduce students to the lessons we were covering. Some of my students were actually humming the songs afterwards. Students that watched the Preposition video did very well on their preposition worksheets as compared prior classes that did not watch the video.
Buy this product at:
As an Amazon Associate we earn from qualifying purchases.