Academics' Choice Award™ Winner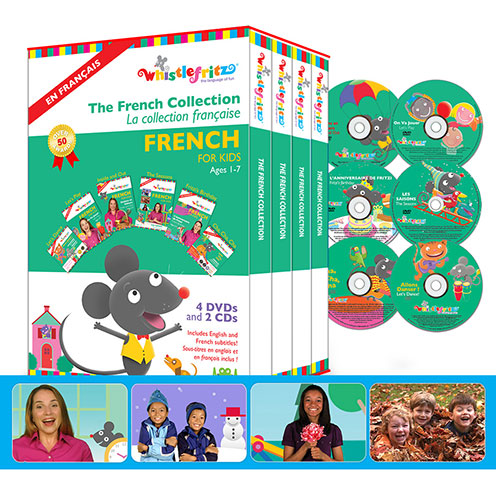 The French Collection
Ages: 1 - 7
Price: $89.99
Type: DVD, Audio
By
Whistlefritz
Description
Get the language-learning party started with The French Collection. Six lively programs encourage children to speak in French, sing in French, even dance in French! This multimedia set includes the French immersion videos Dedans et dehors (Inside and Out), On va jouer (Let's Play), Les saisons (The Seasons), and L'anniversaire de Fritzi (Fritzi's Birthday). Created to be enjoyed again and again, each video encourages children to learn basic French vocabulary as they interact with vivacious host Marie, playful peers and charming animated characters. The fun continues with the lively CDs, Cha, Cha, Cha and Allons Danser! (Let's Dance!), that combine catchy original songs and traditional favorites with rollicking world music rhythms. "The French Collection" is your passport to an exciting new world of language learning fun! Includes French and English subtitles and downloadable translation guide.

Review Highlights:
The DVDs included in the set allowed students to practice language acquisition. Viewers practiced forming connections between spoken foreign language and known words. While viewing the DVDs, viewers are able to practice listening to, speaking, reading, and singing in a foreign language, and have the opportunity to develop critical listening skills. The program covers three of the four basic language skills - reading, speaking, and listening.
I appreciate such a well-thought out approach to language instruction. As a former educator, and now as a homeschooling parent, I love finding educational material that truly aims to help kids learn. Utilizing three of the four language skills as part of the program is incredible - and helps kids add layers of comprehension. The translation guide available on the website is incredibly helpful - and a fantastic resource for parents and teachers helping their kids navigate a new language!
The music is incredibly catchy and engaging - although the entire program is able to maintain a child's attention. The mix of cartoons and live-action helped to keep younger children engaged, while the music and live-action tended to keep my older students (older than the recommended age) interested.
I think Whistlefritz would have incredible success if they were to create additional immersion programs geared towards the following age groups: 9-12, 13-18, Adult. The DVDs and CDs are such a more engaging and interesting way to learn a language than the way so many of us learned in high school. As an adult, I would definitely watch a program like this geared towards adult learners.
Buy this product at:
As an Amazon Associate we earn from qualifying purchases.