Academics' Choice Award™ Winner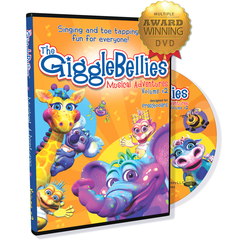 The GiggleBellies Musical Adventures Volume #2
Ages: 0 - 5
Price: $14.98
Type: DVD, Audio
By
3D Magic Factory
Description
The GiggleBellies take your little ones on more whimsical adventures in this highly anticipated sequel. Featuring another blend of popular traditional children's songs that have that GiggleBelly twist, and a few more fun original GiggleBellie tunes. Meet some new characters and dance along with your familiar favorites. This next DVD will be sure to have your kids singing and wiggling about!

The entire DVD is approximately 32 minutes and includes thirteen fully animated songs including Down By The Bay, Busy Bumble Bee, Head Shoulders Knees & Toes, Colors Of The Rainbow , If You're Happy And You Know It, Itsy Bitsy Spider, The Really Cool Space Team, Mr. Sun, Working On The Railroad, Bucky The Horse, Eat 'Em All Up, All The Little Raindrops, and Fly Away With Me. DVD also includes Mp3s of all the songs, ten coloring pages, and thirteen fully illustrated lyric sheets.
Review Highlights:
Giggle Bellies has done it again with volume 2 of its musical adventures. There are wonderful, sweetly sung melodies and a fantastical creative video that makes children smile huge, amazed smiles. Songs that stand out are "Busy Bee," with its spelling of words—great exposurefor preschoolers. Other songs, "Itsy Bitsy," "Color of the Rainbow," "Happy and You Know It," and "Space Boy" are all educational and so creative. My child loves them. The added bonuses of the MP3s and printouts are well worth $15 for this beautiful and educational video.
Buy this product at:
As an Amazon Associate we earn from qualifying purchases.