Academics' Choice Award™ Winner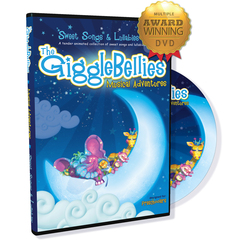 The GiggleBellies Sweet Songs and Lullabies
Ages: 0 - 5
Price: $14.98
Type: DVD, Audio
By
3D Magic Factory
Description
The creators of the multi-award winning DVD series "The GiggleBellies Musical Adventures" are excited to bring you this tender collection of animated sweet songs and lullabies. Carefully paced from beginning to end, this DVD was created to engage and soothe for quiet, nap and sleepy times. Enjoy unique adaptations to beloved traditional lullabies complimented with original sweet GiggleBellie songs. We hope your family enjoys this special animated collection as much as we did creating them.

The entire DVD is approximately 32 minutes & includes ten fully animated songs, plus a bonus video. You are My Sunshine, Great Big Ocean, Imagine A Cloud, Row Your Boat, Firefly, Unicorns & Fairies, Twinkle Little Star (version 2), All The Pretty Little Horses, Good Night Sleep Tight, Rock A Bye Baby (Instrumental), and the bonus video is Rock A Bye Baby Instrumental with Lyrics. DVD also includes Mp3s of all the songs, (EXCEPT "You Are My Sunshine"), twelve coloring pages, and ten fully illustrated lyric sheets
Review Highlights:
The Giggle Bellies, Sweet Songs and Lullabies, does an outstanding job of putting beautifully crafted songs to an amazing 3D video. I am very impressed with all the Giggle Belly originals. These songs were a wonderful surprise after hearing all the classic lullabies and children's songs in their other videos. The creativity of the videos are beautiful. The one scene that follows the dandelion seeds across the landscape just opens up a whole new world for a child that is used to blowing those little things and making wishes. "Great Big Ocean," was a wonderful trip under the sea, inviting the observer to come and learn and maybe some day swim the great depths. Our MP3 copy sings our children to sleep often. When watching the DVD, my children are glued to the screen and I am inspired. Thank you for producing such a great product.
Buy this product at:
As an Amazon Associate we earn from qualifying purchases.