Academics' Choice Award™ Winner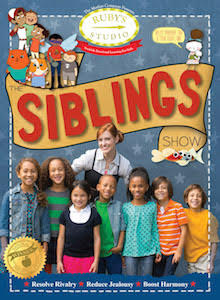 The Siblings Show
Ages: 2 - 8
Price: $14.99
Type: DVD
By
The Mother Company
Description
Sibling relationships are often the deepest, strongest relationships in life - but they can also be the most challenging, for sibs and parents alike! The good news is: we're here to help.

"Ruby's Studio: The Siblings Show" is a fun, engaging way to help young siblings work it out and find the love. Throughout this special day with Ruby and a group of real-life siblings, kids will learn memorable tools to resolve conflict, tame jealousy, and prepare for a new baby, while also exploring why the connection and love between siblings is so special and important.
Review Highlights:
The Siblings Show did a wonderful job introducing social emotional tools for communication between siblings. Children were given concrete methods of speech (use "I feel") to use when coming across conflict with their sibling.
Ruby's delivery was perfect! It was warm, believable and practical. Asking siblings in the show to share commonalities among problems faced with one another was a great way for children to learn that this is normal and that one just needs tools to help the situation. The timing between songs, teaching and mini-cartoons was ideal. It wasn't too fast, like most shows, and not too slow as 5 year old boys such as mine can get bored. I loved the diversity in ethnicity among the children, the songs, her presentation, the cartoons....it was all good! This show was put together with a lot of love and hard work. Nice work Mother Company!
Buy this product at:
As an Amazon Associate we earn from qualifying purchases.