Academics' Choice Award™ Winner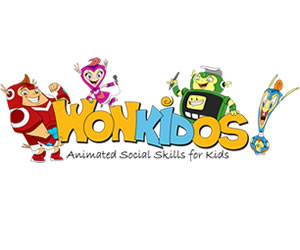 Wonkido Animated Social Skills
Ages: 2 - 9
Price: $19.99 (apps $3.99 each)
Type: DVD, Website, App
By
Brighter Futures for Beautiful Minds
Description
Each Wonkidos episode is a short animation modeling correct behaviors that is fun and interactive for all young children. Each episode can be purchased individually from our website, or through iTunes as an IOS application for a mobile device allowing children to learn "in the moment". Additionally, all of the episodes can be purchased on a single DVD.

The Wonkidos are fun, silly characters that teach children important lessons in a fun animated way! Let the Wonkidos help your child learn important social and life skills for positive social interactions.

Kids learn best when engaged and having fun. Video modeling helps teach your child the correct behaviors of what to do in the correct situation.

Teach your child the important skills they need to know
- Visual Learning
- Video Modeling
- Fun Animated Cartoon to visually teach children
- Important Social and Life Skills

Going Potty
Getting Dressed
Ordering at a Restaurant
What to do if you get lost
Playing with Friends
Exercise and Eating Healthy
Saying Hello
Making Eye Contact
Taking Turns Choosing Games

Research Approach
Every script for the Wonkidos episodes have been carefully created and reviewed with input coming from developmentalists, researchers, doctors and most importantly, parents. We have used different perspectives to assist in producing the various topics and scenarios and collaborated in the most effective approach to address the needs of our children and implement these lessons in their everyday routine.

Applied Theraputic Approach
The Wonkidos theme song "I do, We do, You do" came from an applied therapeutic approach to help teach children that learning is a collaborative effort and to share that each child has the ability to overcome any difficult task. Each episode uses developmental approaches to teach children everyday skills regardless of age or developmental level.

Every episode began though consultation from developmental specialists. We then added input from parents to create the approach and teachings in each video. Brighter Futures for Beautiful Minds created each topic and outlined the steps and approach for each video. Making them the most effective and successful for children.

Professional Review
"Young children learn by exploration---seeing and doing things that are available to them. Progress in learning is a result of many experiences with both successes and failures at home, in school and the playground. Most learning in early childhood occurs in this way in safe, natural surroundings with guidance by parents and other adults.

The Wonkidos video series provides opportunities for young children to learn effective ways to negotiate common developmental challenges----potty training, getting dressed, playing with friends and more. The short, animated programs are engaging to kids because they are stories that are told from the child's perspective in an entertaining way. Sound developmental principles are written into the scripts to maximize learning. As they watch these video stories, children learn about their ability to make things happen in the family and with friends. Ultimately, it teaches them how to successfully use their new motor, language and social skills. The Wonkidos video series is an important contribution to early childhood learning."

Martin T. Stein, MD
Professor of Pediatrics
Division of Child Development and Community Health
University of California San Diego
Rady Children's Hospital

ABOUT BFBM
BFBM is the creator of the Wonkido Visual Organizer for Kids and the animated series, "Wonkidos." At BFBM, we are committed to combining interactive technology with cutting-edge research in child development to create mobile applications, software and videos that help children learn social, organizational and developmental skills. We passionately believe that our products will empower children at various developmental stages to better understand and succeed in the world around them.
Review Highlights:
My son is autistic. This video has some excellent little cartoons that help to teach the proper way to do things, such as playing with friends, using the restroom, and getting dressed. What to do when lost, how to order food, and safety are also covered.
The biggest thing I liked about this is that my son liked it. Two plush figures came with it - he carries them around with him and they sleep on his pillow. The show is engaging and fun. He doesn't get bored with it or feel like he's being lectured. Nor does he mind being reminded of it when he needs to be. It makes for an excellent example. The playing with friends section has come in handy the most. I just wish more scenarios were covered!
This DVD has been very helpful in helping my son with autism remember important details, such as washing his hands or how he should play with his friends. It's very friendly and he loves the DVD. I hope to find more of this series.
Buy this product at:
As an Amazon Associate we earn from qualifying purchases.