Academics' Choice Award™ Winner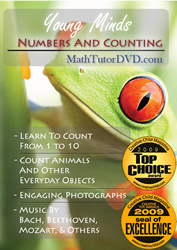 Young Minds - Numbers and Counting (Math Tutor DVD Series)
Ages: 2 - 5
Price: $21.99
Type: DVD
By
Math Tutor DVD
Description
Learn to Count from 1 to 10 with Classical Music! Encourage your little one's Young Mind to develop an interest in Math at a young age with MathTutorDVD.com's Young Mind's Numbers and Counting DVD!

- Learn to recognize the numbers 1-10.
- Associate the number with physical objects.
- Count from 1-10.
- Animal names and sounds.
- Fruits and Vegetables.
- Names of colors.
- Names of machines such as cars, airplanes, etc.
Review Highlights:
When I saw that the entire learning experience would be accompanied by music from Beethoven, Mozart, and others, I was impressed. Stimulating music has a powerful impact on the brain development of children, and adults.
My two-year-old girl has really taken to this DVD, the use of natural imagery intrigues her. Using nature to set a foundation in math just feels right... and my daughter is now up to 'fo-u-our.'
Not only does this do a great job of demanding attention, the pattern associations bridge the abstract world of mathematics with the wide, wild-world in which we live.
Buy this product at:
As an Amazon Associate we earn from qualifying purchases.