Academics' Choice Award™ Winner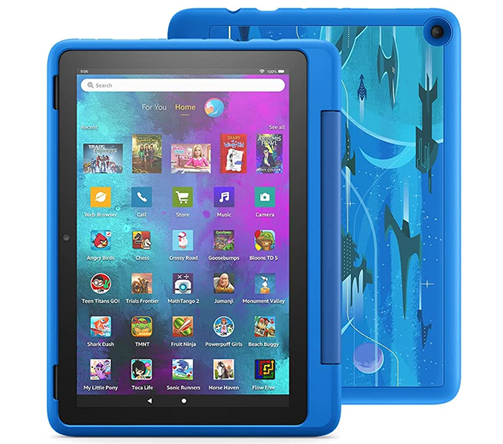 Fire HD 10 Kids Pro
Ages: 8 - 12
Price: $199.00
Type: Electronics, Game, Book, Videos, App, Toy, Gear & Equipment
By
Amazon
Description
Amazon's Fire HD 10 Kids Pro is the ideal tablet for kids who are growing and have an insatiable curiosity. The device includes features that older kids, and the adults in their lives, want: a "grown-up" look and feel; digital store access, so kids can request apps and caregivers can approve purchases and downloads; voice and video calling with parent-approved contacts; and an open but filtered web browser experience. Amazon Kids' free suite parental controls make it easy for grown-ups to manage their kids' screen time and digital content. Parents and guardians can approve downloads, share content, set time limits, and more through the Amazon Parent Dashboard.

The Fire HD 10 Kids Pro comes with one year of Amazon Kids+, providing content kids love, including thousands of apps, games, videos, and books. The Amazon Kids+ content is educational, age-appropriate, and ad-free, and features engaging content from National Geographic, Marvel, PBS Kids, and more. The Fire HD 10 Kids Pro also comes in a durable screen (made with strengthened aluminosilicate glass) and a two-year worry-free guarantee.

Review Highlights:
My children all love the Amazon tablets, and as parents so do we! They are kid-proof but if they get battered up in the first two years, Amazon will send you a new tablet. We've tried some other brands, but this tablet is so fast, the warranty is unbeatable, the battery life lasts so long, and the case itself is nearly indestructible. A win for kids and a win for parents!
Amazon's Fire HD 10 Kids Pro is a wonderful addition to your electronic device library. This updated kid friendly Kindle is packed with age appropriate hand picked apps that children over 8 years old will enjoy. The case is tough. My son dropped it as we took it out of the box and not even a scratch. After reading a bit about it, there is a 2-year warranty on the Kindle so if someone was actually able to break it, Amazon would send a new one, no questions asked. The sturdy blue case is also eco-friendly, which I think is a wonderful addition to the new series. The only con of this device is that there are too many choices!
I'd highly recommend the Fire HD10 Kids Pro to anyone with young children looking for a safe and sturdy hand held device for either learning or entertainment.
This tablet makes parenting in the digtal age so much easier! And if my son wants something new (not already downloaded on the tablet), I can approve (or deny) the request from my phone or computer. Great feature!
Children can practice and learn pretty much anything - including decision making, critical thinking, independence, reading, observation, analysis, comprehension, logic, and so much more!
Buy this product at:
As an Amazon Associate we earn from qualifying purchases.