Academics' Choice Award™ Winner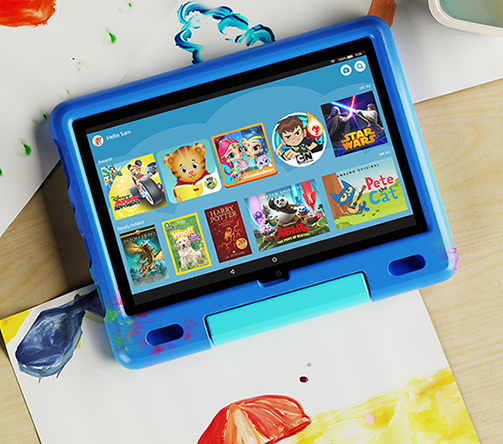 Fire HD 10 Kids
Ages: 3 - 7
Price: $199.00
Type: Electronics, Game, Book, Videos, App, Toy, Gear & Equipment
By
Amazon
Description
Amazon Fire HD 10 Kids is Amazon's biggest and most powerful tablet designed for curious learners ages 3-7. The included year of Amazon Kids+ provides content kids love, including thousands of apps, games, videos, and books from brands like National Geographic and PBS Kids. The Amazon Kids+ content is educational, age-appropriate, and ad-free, providing parents and guardians with peace of mind. In addition, parents can easily manage their kids' screen time and digital content with the Amazon Parent Dashboard. The kid-friendly case, durable screen (made with strengthened aluminosilicate glass), and two-year worry-free guarantee lets parents and caregivers rest easy as their kids do what they do best: explore and learn.

Review Highlights:
The Fire HD 10 Kids is amazing! We have spent hours and hours enjoying hundreds of apps, games, puzzles, books and videos for my 5 year old. You name it, and this thing can access it! There are over 20,000 apps and videos to choose from - almost overwhelming how much can be put on this little device. The parent portal was easy to access and use for filtering content and setting time limits - a must for my little boy.
The read aloud feature is wonderful. My daughter loves the narrated books. I love that the curated content provides quality early learning instruction and open-ended play activities. My children can safely explore, play, and learn on their own (or with me)! Kids can't access social media or surf the web by default. The tablet supports up to 4 profiles so all my kids can share one device (and practice sharing). There are many excellent features, but as a parent and educator I appreciate that I can set the age range of the content presented for each child, and that I can set it for either non-readers or readers.
The Fire HD 10 Kids is sturdy and very well made. It goes everywhere we go wherever it may be: in the car, at the store, or outside. If there is ever an issue, there is a two year built in warranty. I highly recommend the Fire HD 10!
Sturdy case and amazingly light! There are a lot of books/activities in Spanish, and you can even change the language to Spanish.
It feels good knowing that my child is safe when using this tablet with the help of the parental controls. The warranty is another great thing about this tablet. The case itself is designed with kids in mind and super sturdy, so it will last - if it breaks within 2 years, they will also replace it completely free of charge. We've already gotten use out of the warranty when my son accidentally dropped the tablet out of a moving car, but Amazon fulfilled their end of the bargain and replaced it for free. There is plenty of educational content loaded on here (which can also be removed if you want) between the games, reading, and various apps, and it comes with 12hrs of battery life.
Children practice and learn cognitive and social emotional skills, language and reading, letters, math, numbers, songs, observation, analysis, comprehension, logic, comparing and contrasting, and so much more!
Buy this product at:
As an Amazon Associate we earn from qualifying purchases.