Academics' Choice Award™ Winner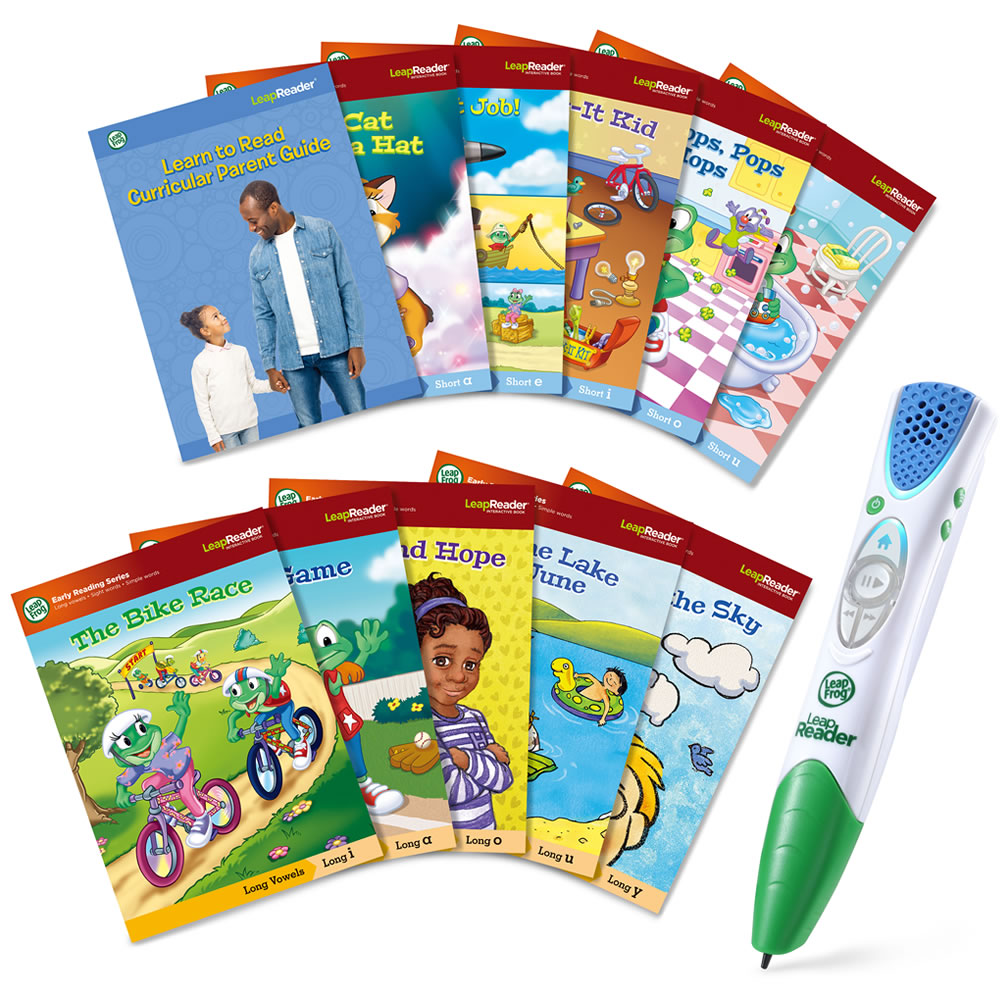 LeapReader® Learn-to-Read 10-Book Mega Pack™
Ages: 4 - 8
Price: $54.99
Type: Electronics, Book, Gear & Equipment
By
LeapFrog
Description
Help your child on their learn-to-read journey with the LeapReader® Learn-to-Read 10-Book Mega Pack™. Ten special books help children progress at a reading pace that feels just right to them. Touch the LeapReader® stylus to the book icon in the included books to hear the story read aloud. Lively character voices enhance the stories as they're read. Explore each word in the story by touching it with the stylus. In Say It mode, you'll hear each word spoken. Switch to Sound It mode to hear words sounded out to build word-blending skills. Select Spell It mode to hear and see the spelling of words and reinforce letter recognition. Yellow highlights throughout the books introduce letter teams that make a single sound or words with irregular spelling patterns. Each book encourages a love of reading through activities and phonics games that reinforce what they've learned. Includes a Curricular Parent Guide that provides information on reading development along with activities that support children on their learn-to-read journey. Additional content can be downloaded from the LeapFrog App Center and includes popular audio books, sing-along songs, fun facts and trivia.

Review Highlights:
Great compact system. A definite upgrade over the older LeapFrog systems with the attached wire. I like how it has a rechargeable battery with good stamina. The system is attractive and a bit magical to use. Easy to use for kids 5 and older + adults. Includes 10 leveled phonics books with a diverse cast of characters and stories. It also comes with a helpful parent guide with tips to best support learns in their phonics journey.
I like this product that it has so many built-in stories and games. It allows children to explore on their own by using the stylus to touch the pages. My daughter is fascinated by the noise she can make. I also like that it does not have any lights as distractions. It is a good product for learning to read.
The LeapReader system may be a bit complicated/advanced for those at the younger age of the attended audience. 4 year olds will likely need adult (or older sibling) assistance to operate the pen accurately as it does need to be pressed in the correct place/pressure and angle to work successfully. Note: Product doesn't work out of the box. It requires a Windows/Mac computer with internet connection to initialize.
My baby learns cause-and-effect while using the stylus to touch the pages and the system reads or sings to her. My 4-year-old practices her ABC's and shapes mostly, and I am hoping to see that she will learn to touch certain icons to read the stories.
Children practice phonics, early reading skills, listening skills, independence, fine motor development, hand-eye coordination, and much more!
Buy this product at:
As an Amazon Associate we earn from qualifying purchases.