Academics' Choice Award™ Winner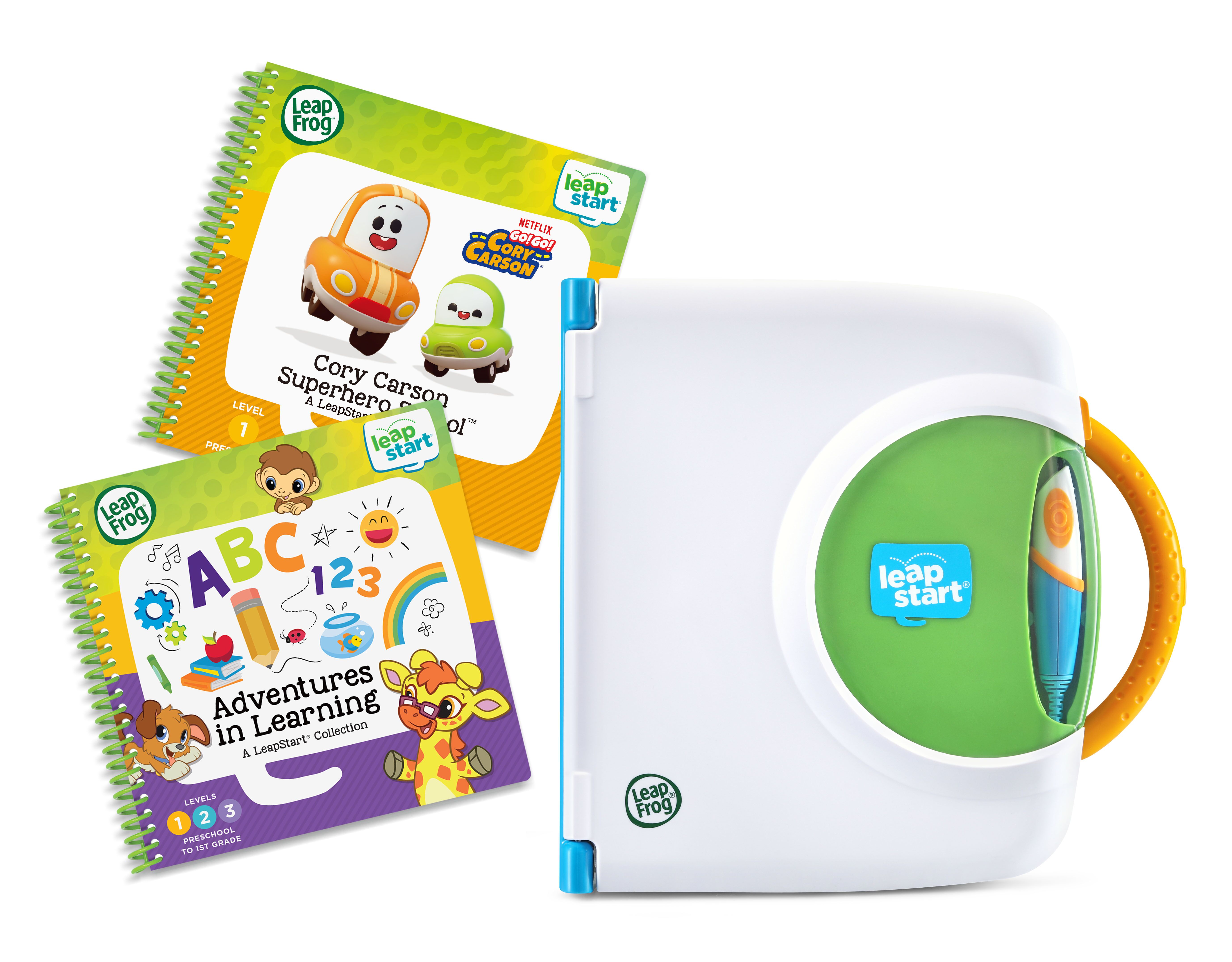 LeapStart® Learning Success Bundle™
Ages: 2 - 7
Price: $44.99
Type: Electronics, Book, Game, Toy, App, Gear & Equipment
By
LeapFrog
Description
Explore exciting new ways to learn with the LeapStart® Learning Success Bundle™ interactive system. This system with a sleek, new design grows with your child and gets them excited about learning with interactive touch-and-talk pages. Activities that include games, puzzles and creative challenges enhance learning to help kids build math, reading, problem-solving skills and more. The Go! Go! Cory Carson® Cory Carson Superhero School™ book, based on the popular animated series, and an additional activity book are included. The expansive LeapStart® library of books (sold separately) covers a variety of preschool through first grade subjects for 2-7-year-olds with more than 30 activities in every book. Many replayable activities have two levels with 50+ key skills per grade level, so kids can play and learn at the right level and move up when they're ready. Included books are preloaded. The easy-to-hold stylus is comfortable for kids of all ages, promotes proper writing grip and neatly clicks into the cover for storage. Take it on the go using the carrying handle. A computer with an internet connection is required to load book content onto the LeapStart® system.

Review Highlights:
The LeapFrog LeapStart reader is an all-in-one, portable system that supports reading in an engaging, fun format. It is ready-to-go out of the box, so kids can start learning immediately. The books included practice letter and numeracy skills and hold the interest of preschoolers and early elementary kids. The LeapFrog LeapStart allows kids to practice phonics, numbers, reading, and basic concept skills all while using a very kid-friendly stylus pen. I LOVE that kids have to hold a school-based tool to access the interactive components. There are so many app-based games on the market that skip this very important skill of pencil holding.
There are tons of hot spots to touch on the LeapStart books leading to exploration and persistence with cause-effect play skills. The books are colorful and engaging, although some kids may not be familiar with the characters in the books if the Netflix show GoGo Cory Carson is not a staple in your house. There are additional add-on storybook packs that target different age ranges (Preschool, Pre-K, and Kindergarten). This is a very portable system and connects to headphones which is very welcome for parents using the system in the car or in a waiting room.
As a Speech-Language Pathologist, I have loved LeapFrog products for years. The company has a solid, practical approach to teaching early phonics (letter-sound associations). Kids have delighted in the easily accessible touch-and-learn format for vocabulary, early concepts, and literacy foundation skills.
I have used this product with preschool all the way through 3rd grade with a lot of success. Kids enjoy hearing stories come to life and feeling "in the driver's seat" of their learning. There are many companies that promote read-aloud or educational products, but LeapFrog was one of the first and continues to be an industry leader for parents and educators.
Children practice pre-reading, reading, phonics skills, early narrative skills, fine motor development, hand-eye coordination, and much more! I love the portability, ease of use, and that it's easy to grow with the child through additional books.
Buy this product at:
As an Amazon Associate we earn from qualifying purchases.