Academics' Choice Award™ Winner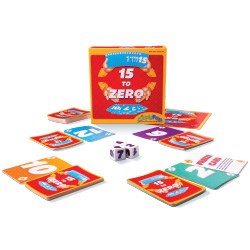 15 to Zero
Ages: 7 and up
Price: $22.50
Type: Game
By
SimplyFun
Description
How fast can you match and add your cards to go from 15 Cards To Zero? Win the game by being the first player to get rid of his or her Number Cards by matching them to an individual number on a single die or the sum of two or more dice each turn. The first to match can discard those cards from their hand to get to zero before the other players. Match Number Cards to rolled sums or individual numbers. Mix up game play by using Special Cards. Get rid of ALL of your cards first to win the game!


Review Highlights:
I liked the speed of the game, the excitement it generated. Even my son, who hates everything, asked to play another round! Strategy comes into play because you need to combine numbers to reach the ones in the teens. Do you try to discard those cards first or hope you'll get a lucky roll when the game is coming down to the wire? Rolling the dice added an extra element of excitement too. The rules were clear and easy to apply. This was a great overall experience.
We practiced math facts up to 15. For my youngest son, it was also a chance to practice his number names on the dice. This game involves strategy and decision-making. Since each person has cards ranging from 1 to 15 it's a game of speed as well.
Buy this product at:
As an Amazon Associate we earn from qualifying purchases.