Academics' Choice Award™ Winner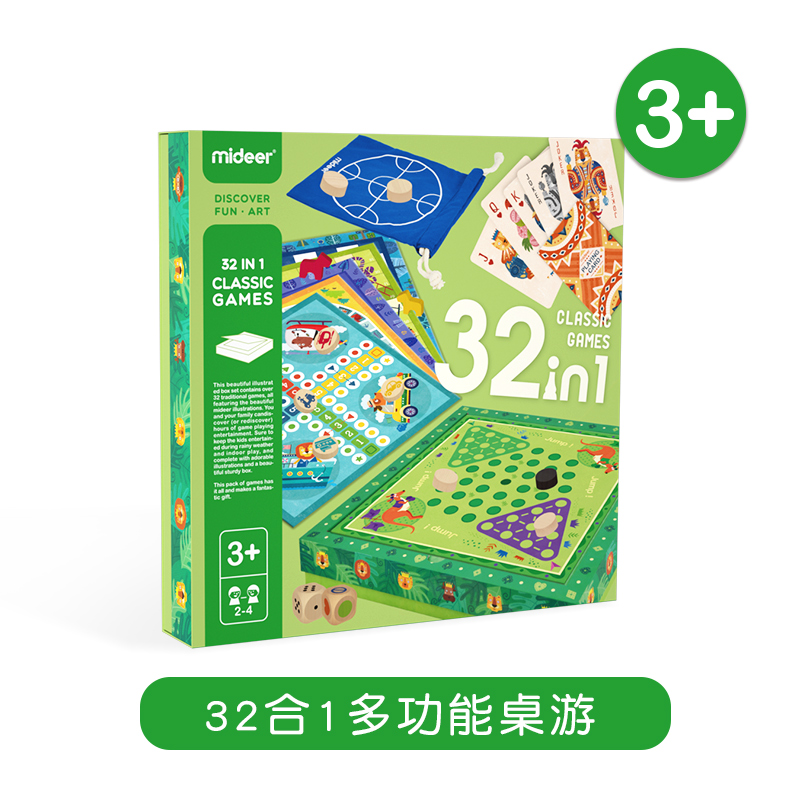 32 in 1 Classic Games
Ages: 3 and up
Price: $14.78 USD
Type: Game, Puzzle
By
Ningbo Mideer Toys Co., Ltd.
Description
32 in 1 Classic Games is a new board game for young children, which contains 32 classic games at home and abroad, including Snakes and Ladders, Treasure Hunter, Animal Checker and other popular board games. This set is excellent for promoting reasoning skills, good judgement, strategic skills and resilience. It is a must-have for family time and parties, suitable for at least two people to play together, which helps promote social skills. The package includes a holder, 5 double-sided chessboards and various chess pieces. Creative ideas and designs can be seen both on the package and chessboards. There are at least two games available for each chessboard. The outer box can be used as a holder for players to secure a chessboard and enjoy fun games.


Review Highlights:
The multifunctional boards and pieces allow you to play a wide variety of games, all contained in one box. If you have young children who are just starting to get into board games, this is an affordable option. It also makes a good family gift without a high price tag. Games are simple ones - chess, checkers, playing cards, snakes and ladders (like classic Chutes and Ladders) and so on.
The product is very sturdy and colorful. There are a lot of games to play, and the game boards fit snugly into the lid, making for easy game play.
The games teach many crucial social, emotional, and academic skills. Skills learned or practiced include taking turns, teamwork, problem-solving, focus and concentration, patience, memory, sportsmanship, logical thinking, and many more.
Buy this product at:
As an Amazon Associate we earn from qualifying purchases.