Academics' Choice Award™ Winner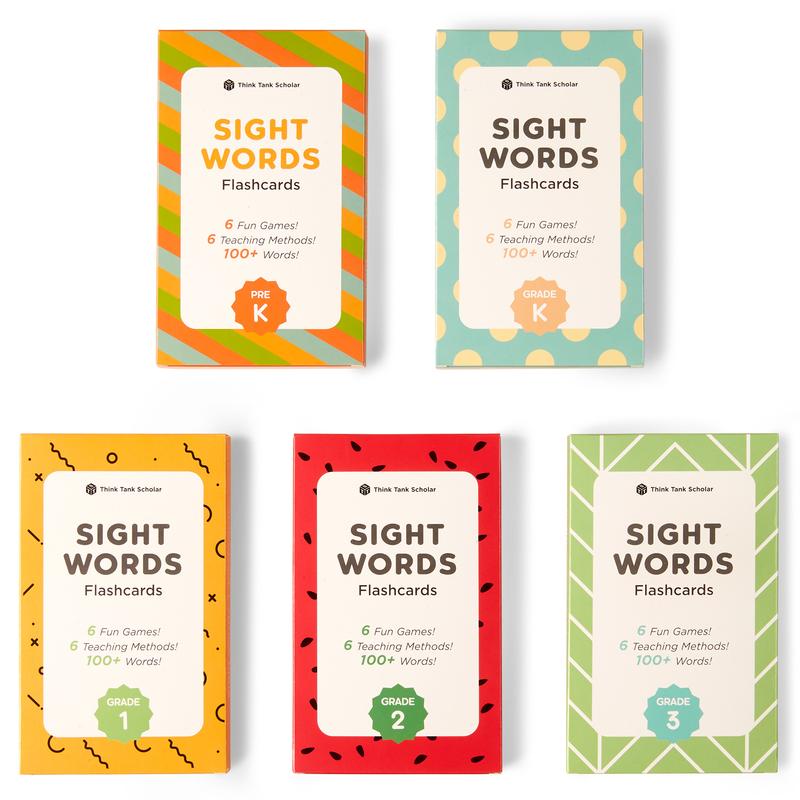 500+ Sight Words Flash Cards Bundle Kit
Ages: 3 - 9
Price: $28.95
Type: Game, Book, Flashcards
By
Think Tank Scholar
Description
Think Tank Scholar Sight Words Flashcards help children to learn and practice reading the most common words found in a children's book.

Help kids build their vocabulary and increase their reading skills by memorizing simple letter-to- sound high-frequency words that do not necessarily follow phonics rules.

Learning to recognize these words without decoding them increases a child's reading speed accuracy, fluency, and comprehension. In addition, 6 teaching techniques and 6 fun learning games are included to help your children practice writing, spelling and build sentences. Providing simple learning resources for a first time reader. Girls and boys can practice word activities to help their memory skills, key for tests.

Our cards are designed to make learning fun for young learners with a non-distracting design and large bold print that helps students automatically recognize words. The flash cards are made from high quality card stock with a smooth laminated coating and rounded edges for easy sorting and handling.

Teach your child over 500 basic words to master the reading skills needed for their level and beyond.

Review Highlights:
This is a great pack of sight words flash cards. The presentation is simple and it's easy to get started with these cards. There are 5 decks included, ranging from Pre-K to 3rd grade words. The cards are coated (and reasonably durable for adult and small hands) and clearly presented with an easy to read font. Suggestions for games and activities are included, but these are to supplement your own ideas, of course.
Both my Pre-K and 3rd grader enjoyed running through these cards and trying each card. My 3rd grader had a confidence boost as he knew most of the words; however, this deck provided an opportunity to practice vocabulary usage and sentence formation, which greatly adds to the value.
This pack focuses on the reading or recognition of sight words, or words that should be memorized based on the frequency of occurrence in reading.
I love that the cards are divided by color and difficulty.
Buy this product at:
As an Amazon Associate we earn from qualifying purchases.