Academics' Choice Award™ Winner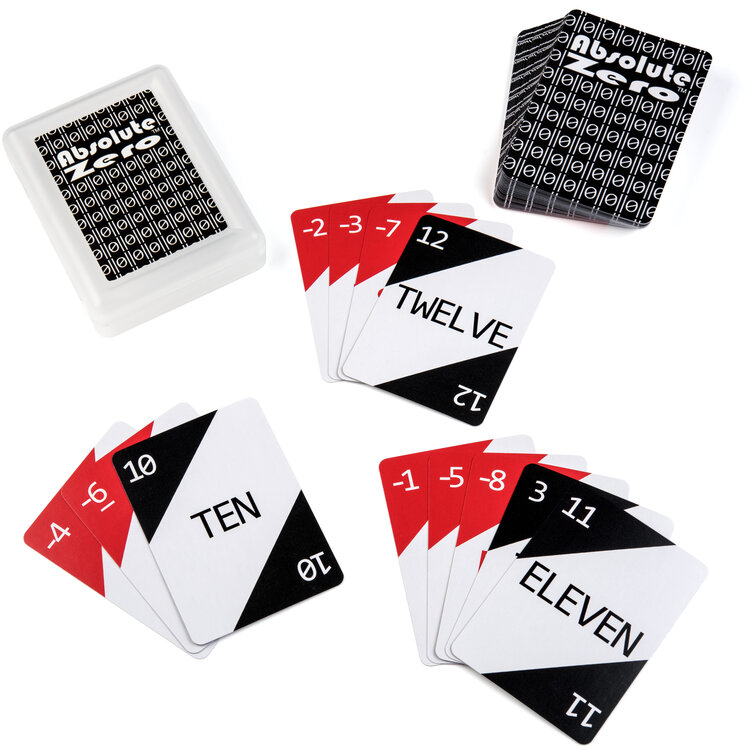 Absolute Zero Integer Card Game
Ages: 8 and up
Price: $15.95
Type: Game
By
Games by Absolute Zero
Description
Absolute Zero was designed by a math teacher for middle schoolers - but kids as young as 2nd grade up through adults enjoy playing! The Absolute Zero deck of cards consists of positive and negative numbers. The objective of Absolute Zero is to have the sum of all the cards in your hand equal zero. Players draw and discard until this is accomplished. The first one with nothing wins the round! A round can consist of a hand of 3, 4, or 5 cards. The number of cards in your hand really changes the strategy needed and the amount of mental math required! There are several other games that can be played with the Absolute Zero deck of cards. Absolute Zero is fun for home or school. Playing this game provides a good foundation for integer operations.

Review Highlights:
Absolute Zero is a fun game that provides plenty of practice adding and subtracting positive and negative numbers. Many students have difficulty understanding these concepts and need extensive practice before they're secure with the skills. The Absolute Zero Integer Card Game is similar to traditional games and easy to learn to play. Students can make the game more difficult by increasing the number of cards dealt as they further develop their skills. The game includes directions for other games to play with the cards for variety. The cards are versatile and can be used by younger children to add positive numbers. Absolute Zero provides an enjoyable way to increase mental math skills and learn an often challenging concept.
This was a huge hit in my middle school classroom, and has really helped students understand the concept of absolute zero and how integer operations work. Not only do they have fun while playing this, they have been able to successfully apply what they learned to their homework and our in-classroom assignments. Players add numbers from a range of -12 to +12 to create a value of zero. This is a great tool for teachers to teach integer concepts, as a refresher before a quiz or test, or even just for fun. It's simple and students pick it up quick. It's a valuable resource to keep math interesting for them!
I'm delighted this was invented! The game helps my students get the necessary practice.
Absolute Zero Integer Card Game is fun for the whole family! Players are challenged to merge both positive and negative numbers to produce the number zero. This can be played with anywhere from two to five players, and includes 3 extra games that can be played using the "Absolute Zero Deck" (instructions included). Players quickly learn how to understand the concept of combining integers. It makes challenging mental math practice feel like fun! This game is great for a family game night, to pack on a road trip or airplane ride, or for teachers who are looking for an exciting way to enhance student's math skills.
Buy this product at:
As an Amazon Associate we earn from qualifying purchases.