Academics' Choice Award™ Winner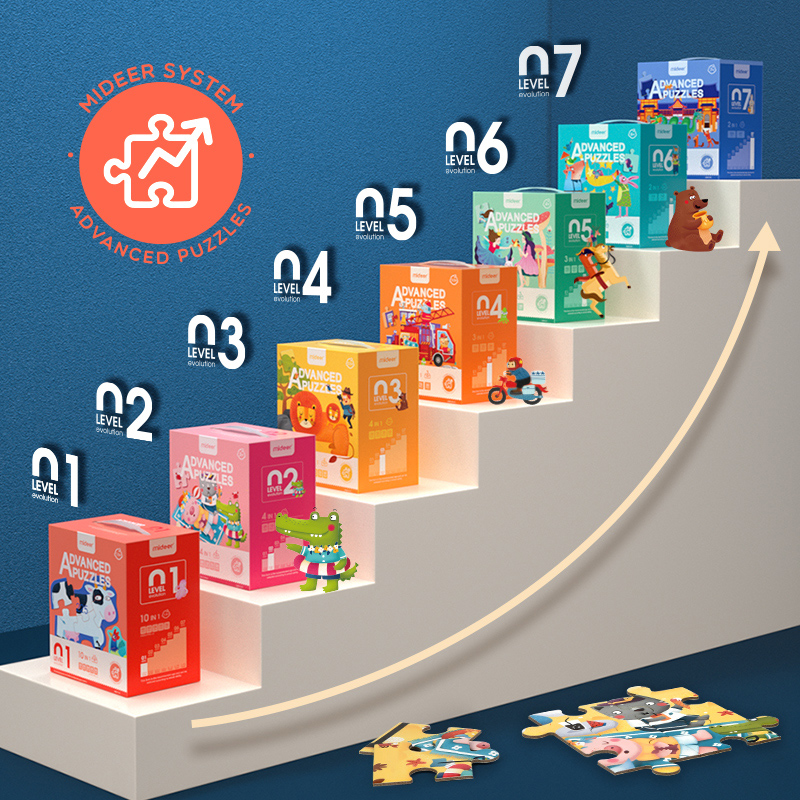 Advanced Puzzles
Ages: 1 - 7
Price: $5.06 - 7.23 USD
Type: Game, Puzzle
By
Ningbo Mideer Toys Co., Ltd.
Description
ADVANCED PUZZLES scientifically designs seven stages from the level of intelligent development of children aged 1-7, each stage corresponding to children of different ages. The advanced system of this puzzle is mainly reflected in three aspects. First of all, the number of pieces of ADVANCED PUZZLES starts from 2 pieces and increases to 247 pieces step by step. There are 23 difficulty levels in total. Step by step, children's logical thinking ability is improved. In addition, with the increase of the puzzle stage, the content of the illustration changes from a single animal image to a natural, urban and other scenes, and finally to the world's human geography, reasonably expanding the scope of children's cognition. Finally, the artistic presentation of the illustration also has different levels. The color in the illustration changes from 2-3 kinds of color matching to the overall color harmony of the whole picture presentation, and finally the integration of the painting art and human geography, so that the children's artistic perception can be improved.


Review Highlights:
I really enjoy that these puzzles are confidence boosters. A child starts with puzzles containing small numbers of large pieces, and as they become comfortable with the process of putting together puzzles, they can move up to puzzles with larger numbers of smaller pieces. There are even fun incentives included-such as a certificates and stickers. These puzzles are fun, bright, and colorful. All of these things are highly motivating to children - especially those that might be intimidated by puzzles.
The puzzles come in a hard box, and each puzzle has it's own reusable pouch with a handle. The pieces are nice and thick, with a wonderfully smooth coating on them. These puzzles will stand the test of time with durable pieces and well thought out storage.
Advanced Puzzles present children with a great way to spend their play-time increasing their hand-eye coordination, observation, and problem-solving skills while developing their concentration habits. This can be a great gift for a family looking for ways to keep their children entertained through this period of online school. Including stickers and a growth chart, children can track their own progress in their puzzle-solving abilities.
Skills learned or practiced include fine motor and hand-eye coordination, observation, visual spatial awareness, pattern recognition, patience, persistence, problem-solving, and a deeper understanding of the themes and concepts (from animals to geography).
Buy this product at:
As an Amazon Associate we earn from qualifying purchases.