Academics' Choice Award™ Winner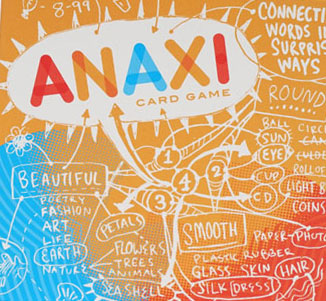 Anaxi Game
Ages: 8 and up
Price: $21.99
Type: Game
By
Funnybone Toys
Description
A Venn-diagram-inspired card game, where players connect words in surprising ways. During a round, draw 3 Anaxi Word Cards and overlap them. All players work at the same time and have 1 minute to write down as many people, places or things that share overlapping qualities. Players with original and unique answers score points.


Review Highlights:
Children are encouraged to use their recall memory skills to come up with words that match the adjectives provided. In addition, they had to add words that they thought their competitors would be unlikely to use. So they need to be creative and think outside of the usual answers. Additionally they need to read and write to complete the tasks.
The kids say that it was very funny when they had to compare words. I like that they had to really think to find words that matched the adjectives provided.
The game teaches creative thinking, attention and rapid answering, and provides practice with Venn diagrams. It is similar to one of our favorite category games, but with a twist. Answers have to fall into overlapping categories. The three overlapping circles introduce or reinforce the concept of Venn diagrams and players are rewarded for coming up with answers that meet 2 or all 3 characteristics for each round. We found it surprisingly challenging! I like that it can be played with 2 or more players. The box says "2-6 players," but I don't know why it couldn't easily be played with more than that. I also like that the box is small and doesn't take up a large amount of space when stored. Game play is quite short and doesn't require a lot of set-up or a large time commitment.
Buy this product at:
As an Amazon Associate we earn from qualifying purchases.