Academics' Choice Award™ Winner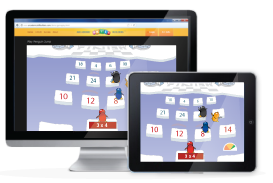 Arcademics Plus
Ages: 7 - 12
Price: $5 per student
Type: Game, Website, App
By
Arcademics
Description
Arcademics Plus is an online multiplayer edu-gaming platform. 92% of K-12 students play multiplayer video games outside of class - Arcademics brings the exciting features of multiplayer gaming to educational subjects. Students can play eachother in real time - on desktops, laptops, or tablets - while learning math and language arts. Teachers can assign games, view performance data and monitor progress, and customize game content. These games engage students, and also give teachers the data they need to improve instruction.


Review Highlights:
Arcademics Plus is a great platform for teachers to track student improvement and assess them if need be. Students receive immediate feedback during play. Multiplayer game challenges are available as well. Teachers can assign a specific game or skill set if he/she notices a student needs help in a specific area. I can see myself using this program next year in my classroom.
Buy this product at:
As an Amazon Associate we earn from qualifying purchases.