Academics' Choice Award™ Winner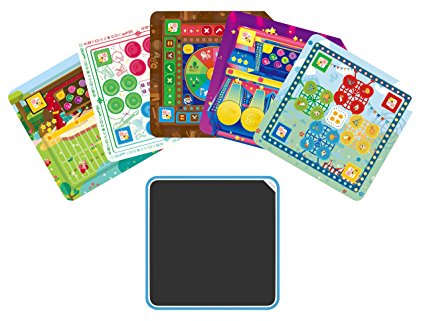 Beyond Tablet
Ages: 3 - 12
Price: $199.00
Type: Game, Puzzle, Software, Toy, Gear & Equipment
By
Beyond Screen
Description
Beyond Tablet is an interactive game board that enhances traditional board game play with the newest technology while helping kids learn. Beyond Tablet's games are played with physical pieces — in this case game maps, cards, blocks, and figurines. The big difference: Beyond Tablet senses the objects, and responds with verbal guidance and encouragement, while LED lights provide visual feedback.


Review Highlights:
Beyond Tablet games develop critical thinking, team work, working memory, musical intelligence, inhibitory control, cognitive flexibility, visual-spatial skills, and many more.
We are using this product for family game night. We love that there are so many different ways to use the Beyond Tablet. The main unit comes with a fair amount of games and we like the extras that are offered. The games are engaging and fun and we can play for a couple of hours with the different games before the girls start to loose interest. We feel like the games are more suitable for younger kids under the age of 7. We still have fun with most of the games even if some of them are a little too easy. Both of the girls would like to see more games for older kids. We all feel like there is a lot of room for them to create new games for older kids. We hope to see some more games so we can continue to grow and learn with the Beyond Tablet.
Overall it's a great product for the age range and we can't wait to see what they come up with next!
Buy this product at:
As an Amazon Associate we earn from qualifying purchases.