Academics' Choice Award™ Winner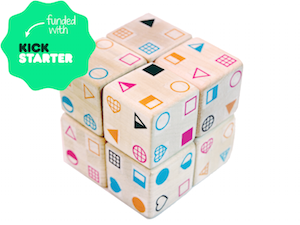 Block Party: A 21st Century Brain Game
Ages: 13 and up
Price: $32.00
Type: Game
By
Three Pixel Heart LLC
Description
Block Party takes brain games to a whole new level. Enter a world full of symbols, where the game can be however you want to play! Block Party features over a dozen game modes, for up to 6 players, and is actively being developed by the creators as well as an extended community of Kickstarter backers and early supporters. If you like meditative puzzles, fast-paced competition, or collaborative problem solving, you will fall in love with Block Party.
Review Highlights:
This was an engaging logic game with many variations. The main playing pieces, the blocks, are nicely designed and pleasing to touch and use.
Block Party is a game similar to the card game Set, but with many more variations. Eight heavy wooden blocks have four symbols on each face. The basic game is to create a "party" of four symbols on four different blocks that are either all the same or all different in color, shape, and fill pattern. Once a party is found, then the blocks used to create that grouping are re-rolled and the search is on again. There are many variations, including some solitaire versions. We found all of the variations engaging and entertaining. The possible combinations of what made a party meant that we were always making some new discovery. Although the box says that the game is appropriate for ages 13 and up, we played the game with children as young as 8 years old successfully. This game will be one that we come back to again and again. It applied logic and visual perception skills to a high degree.
The game develops cognitive skills, logic, spatial reasoning, and visual perception skills. And it's a lot of fun!
Buy this product at:
As an Amazon Associate we earn from qualifying purchases.