Academics' Choice Award™ Winner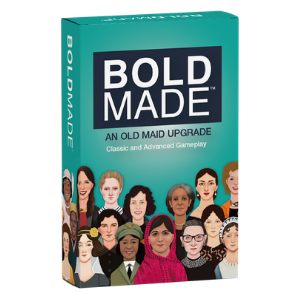 Bold Made
Ages: 3 and up
Price: $19.99
Type: Game
By
Hot Taco Inc
Description
Bold Made is a remake of the classic game Old Maid but without the negative connotations of avoiding the older woman deemed too old to marry.

Bold Made flips the script on this outdated game and includes bold women who made huge impacts on our world and has a more aspirational goal of ending the game with the Bold Made card.

Review Highlights:
Bold Made is a spin off of the classic Old Maid game that we all grew up playing. Bold Made features influential women throughout history. There are 10 categories, each with a different color: Inventors, Writers, Musicians, World Leaders, Artists, Aviators, Supreme Court Justices, Scientists, Astronauts, and Activists. In the instruction booklet you can read all the bios of the included women such as: Jane Austen, Anne Frank, Maddalena Casulana, Georgia O' Keeffe, Amelia Earhart, Marie Curie, Harriet Tubman, and Malala Yousafzai. Bold Made is targeted for ages 7 and older. It takes approximately 15 to 30 minutes to play the game. The game is for 2 to 4 players. The goal of Bold Made is to be the first player to either collect 3 sets of 4 Bold Women or end the game with the highest score! What is unique about Bold Made is that each category is represented by a different color and has a category icon and name at the top of the card. Wild Cards can be used in place of Bold Woman Cards but cannot be used as sets themselves. A matching Wild Card could be used to grow your set to 3. The infamous Bold Made Card can be used as a Wild Card for any Category! This card is a silhouette of a woman in gold with a background of a rainbow of the colors that represent the ten categories. And of course, there are Action cards such as Take 2, Recruit, Replay, and Block. Overall, Bold Made is definitely a great upgrade to the original Old Maid game. It goes beyond just a game in that it teaches children about influential woman in our world. Woman who made a difference.
There are still many Old Maid card games available that depict outdated negative stereotypes of women. I love that an updated version of Old Maid has been developed that portrays outstanding women in different fields. The beautifully illustrated cards showcase leaders in many careers, some traditionally dominated by men. The women included are ethnically and racially diverse. Some women lived in the past and several are current leaders. The instruction booklet gives a brief description of each woman that encourages players to learn more about them. Young children can play simple games with Bold Made cards and older players can play a more challenging version and develop strategies for winning. Bold Made is fun and challenging while presenting good role models.
What my kids liked about this game is how much they learned about significant women of history. When we laid down our matches, we would announce one fact about each woman. In this way, we were able to learn more about women whose names we knew, and other women we had never heard of before.
I like that instead of trying to get rid of the "old maid," and carrying the stigma if you are left with it, the goal is to keep the "Bold Made" card. This changes everyone's perspective on women. We also learned a great deal about significant women of the world. My kids normally wouldn't want to play a game like "Old Maid," but they played hand after hand of this game, trying to learn more about the various women. Somehow changing the goal to keeping the last card instead of trying not to be stuck with it changed everyone's view of the game. Also, the game comes with extra challenge cards that allow for variation within the game when everyone is ready for something new and different.
I would recommend this game as part of a unit of Women's History Month. It also makes a great travel game. This is one we will definitely keep around and pull out often for rainy day activities.
Players practice reading, matching, counting, strategy, observation, and following directions all while learning about influential women. It's a quality product. The cards were very durable and thick. We loved the vibrant colors, the included synopsis of each woman, and the fact that it was created by a 9 year old boy and his mom.
Buy this product at:
As an Amazon Associate we earn from qualifying purchases.