Academics' Choice Award™ Winner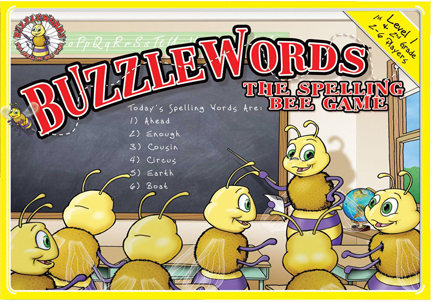 BUZZLEWORDS-The Spelling Bee Game
Ages: 6 - 13
Price: $18.95
Type: Game
By
The Spelling Bee Game, Inc.
Description
BUZZLEWORDS- The Spelling Bee Game is a board game that teaches spelling, reading and vocabulary using words taken directly from the player's age-appropriate school spelling list. The game rules are simple and easy to learn and game play features elements of chance and strategy along with a constant interaction between the reader and the speller on each turn that makes for a fast -paced and fun learning and social experience. There are 900 spelling words for each game level which enhances replay value. Children of different ages can compete with one another on a level playing field by purchasing and using the separately available spelling word cards for their own grade level.
Review Highlights:
We open up the game and my daughter just loved the little bees. What a great first impression! She had no problem with the rules of the game and did really well speeling the word that were given to her. Some of the words were a lot harder than others but she stumbled through and we made it to the end of the game. I recommend this game to any parent who wants to play fun educational games with their kids!
I am a second grade language arts teacher. I've been teaching reading for years and now happy to find another tool for my students. This game is simple enough to play yet can get difficult if asked to spell the more difficult set of words. The variation of difficulty, determined by the roll of the die is wonderful way to make spelling more exciting. Needless to say the game board and and pieces are colorful and well made. I'll be using this game in my classroom in the upcoming year.
Buy this product at:
As an Amazon Associate we earn from qualifying purchases.