Academics' Choice Award™ Winner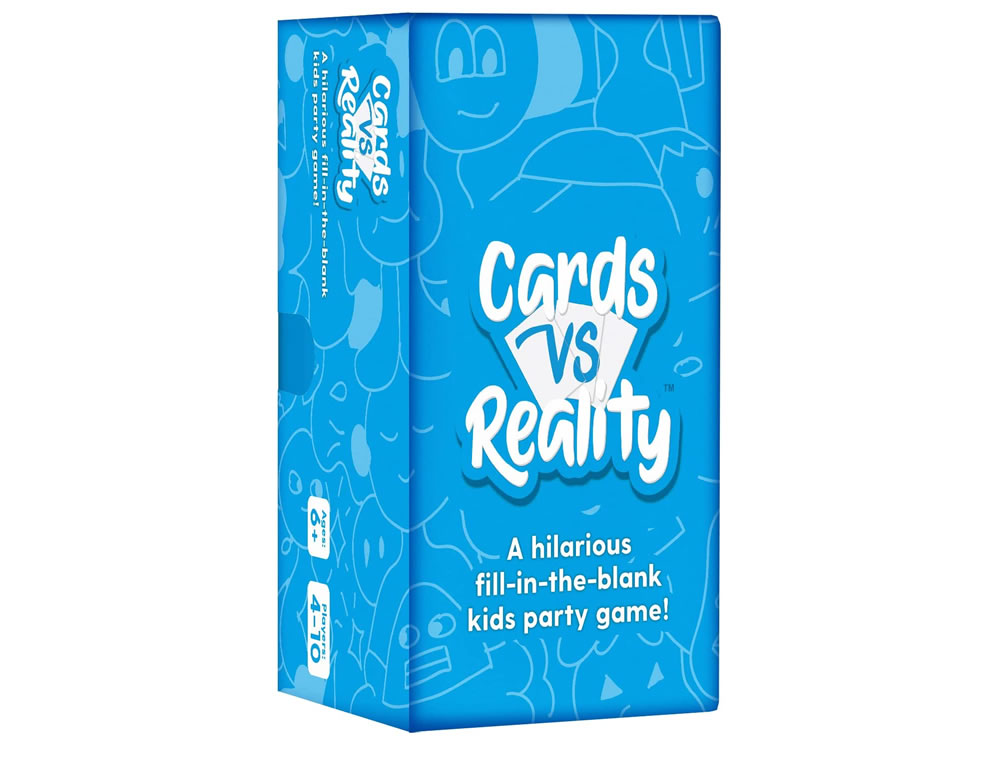 Cards Vs Reality
Ages: 6 - 10
Price: $24.99
Type: Game
By
Funny Panda LLC
Description
Cards Vs Reality - Fun Party Card Game for Kids & Family - 500 Hilarious Cards.


Review Highlights:
If you are looking for a funny card game to play with your kids, this is it. It's a great game to play with your family or a group of friends. You might find other games that are similar to this (where someone reads a question and the rest of the players choose the best/funniest answer), but these questions and answers are actually very witty.
My family had a wonderfully enjoyable experience playing this game together. This will be one of our go-to games for extended family get-togethers and parties with church and friends. This is a good quality game that encourages critical thinking, creativity, initiative, and collaboration. It is appropriate for all ages, unlike other games like this. There are enough cards that if some cards are considered inappropriate for certain family members, those cards can be removed. This game is portable so it is easy to toss into a bag to bring to the beach, a sleepover, camping, or family get-togethers. The setup and instructions are extremely accessible and easy so it literally can be played anywhere, at any time, by all those who are able to read.
This is a good quality product. It comes with a lot of cards so we can play it many times without feeling like we've seen all the cards already. It is truly enjoyable, even for just a short 15 minute pickup game. But it also can be fun with a larger group for a more extended time period. My kids' different personalities really showed based on the choices they made for the most appropriate answer to fill in the blank. Sometimes they would choose the more literal answer; other times the person who gave the most ironic answer was rewarded. I also liked that everyone got a chance to be the person "in charge." If you think someone picked the wrong answer on one turn, you will have a chance on your turn to take control and pick the answer you like the best. This is a great intergenerational game for extended family but it is also perfect as a party game for the kids' hangouts with friends.
Cards vs Reality is a fun and silly game that children (and adults) can enjoy together. It's a fill-in-the-blank sort of game (very similar to a more adult version game that's out there), that gives children the opportunity to craft a silly sentence by submitting one of their cards to complete the sentence stem. There were some times when none of a player's cards made grammatical sense to use - but it wasn't too big of a deal since they are meant to be silly.
Players practice the following skills: decision-making, reading, critical thinking, adaptability, creativity, communication (verbal skills), observation, turn-taking, curiosity, and analysis.
Buy this product at:
As an Amazon Associate we earn from qualifying purchases.