Academics' Choice Award™ Winner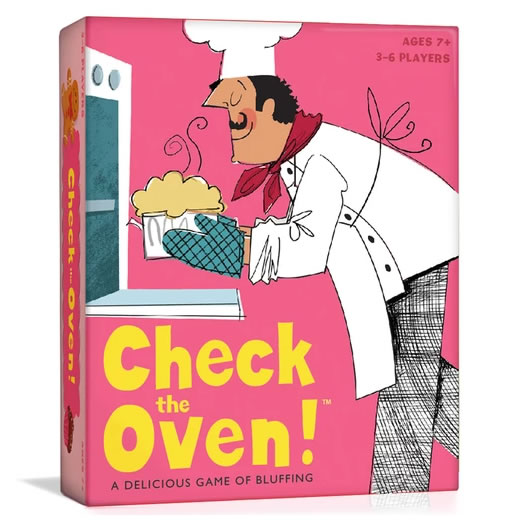 Check the Oven!
Ages: 7 and up
Price: $14.50
Type: Game, Toy
By
Melon Rind
Description
The family-friendly bluffing game that has everybody guessing.

Players search for similar baked treat cards to create sets of 12. Need some cupcakes, cookies or rolls? Ask players and they'll offer you their cards. Some players offer the food cards you need. Others are shamelessly bluffing. Be clever in who you trust or you may be left with the broken pie!

Fun game for mastering addition skills.


Review Highlights:
This game was immediately scooped up by my kids and put into heavy rotation. It's a quick playing game, easy enough to understand, and promotes critical thinking.
The game involves many important social skills such as cooperation, verbal communication, and non-verbal communication when identifying when someone else is or isn't bluffing. Players practice math skills such as matching and pattern recognition. It's easy to use, has great repeat playability, and great illustrations. We loved it!
The game was simple to learn and had just enough uniqueness with the broken pie cards to not be boring. We really liked Check the Oven. Our family still plays it after weeks of fun. It is a great game to just set up and play if kids are done with their screen time and need something to do that involves little parental involvement.
Buy this product at:
As an Amazon Associate we earn from qualifying purchases.