Academics' Choice Award™ Winner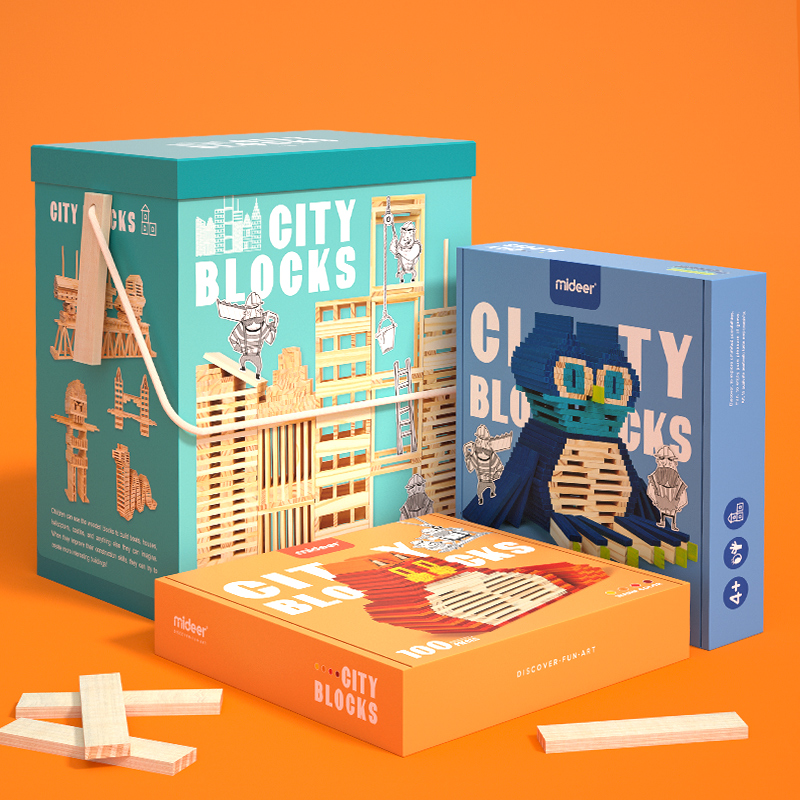 Cityblocks
Ages: 2 and up
Price: $23.00 - $45.00 USD (depending on number of blocks)
Type: Game, Toy
By
Ningbo Mideer Toys Co., Ltd.
Description
MIDEER CITYBLOCKS is an open building block. Children can use their imagination to build freely. Such as ships, railways, tall buildings and buildings can be built. It's very suitable for cultivating children's imagination and patience. And It's also a teaching prop, such as understanding the corresponding relationship between numbers and quantities, comparing the size of numbers, basic addition and subtraction operations and other mathematical knowledge, which can be done with this set of building blocks. Each age group has its own playing method, which is suitable for the whole family. MIDEER CITYBLOCKS are made of natural, lightweight, safe pine wood that's smooth and soft - perfect for kids ages 2 years and up. Ideal for 1 player or more!


Review Highlights:
For kids who like to build, you can't go wrong with City Blocks. The blocks are made from high quality wood that doesn't splinter or break. And though there are instructions for certain builds, kids will also enjoy open-ended play to design their own creations. Building toys like this help kids improve spatial awareness and inspire creativity. More than that, they can provide hours of screen-free fun.
The wood blocks are of high quality - no chips, solid pine wood. The booklet provides many sample structures children can make using the blocks and they are group by level of difficulties. It is a great help to get started. It also comes with 300 identical pieces - which is a lot of pieces! Children can play together using 1 set.
This construction toy will appeal to the parents who use Montessori method of education because they are all wood - no color - and children can practice creating their own structure without distractions.
Opportunities are endless with these Cityblocks! Suitable for all ages...young or mature! Child can do solo but also encourages fun time with parent/child! I loved building with them (I'm 35 years old) as did my 5-year-old! The blocks are excellent quality! Keeps the attention and interest of your child for a long time. I appreciate that this is an activity that not only teaches fundamental engineering and design skills but is fun and entertaining without a screen or electronics. The product helps develop focus, determination, basic engineering/structural/architectural constructs, shape recognition, hand-eye coordination, teamwork, sorting ability, and creativity.
There are so many great things to say about this product. It's simplicity might fool you, but it is the very thing that makes it genius. Kids built everything imaginable with these blocks. Bridges, buildings, animal habitats, a city, etc. I loved that the blocks are neutral, therefore the kids had a blank slate to start with. They had to use their creative problem solving skills to build high and they had to work together to accomplish larger structures. And, it seems like a small thing, but the material is lightweight, yet durable. Which means when it falls on a tile floor, it's not loud, yet it won't break. HUGE plus for classroom settings.
I could write a thesis on the benefits of these blocks. I loved watching my kids play with these. There was zero fear of failure in starting to play and yet, they learned so much. If you ask a kid to work together to solve a problem, that seems like a hard task, but if you give them blocks, they naturally work together. They wanted to help each other build the tallest towers and they wanted to help each other build zoo structures. Another nice thing about the blocks is you can add a box of cars or dinosaurs, or anything you can think of to take it to the next level. Or, they can stand alone for hours of constructive play. I'd buy these as gifts day after day! Basic but brilliant.
The Cityblocks pack is made out of wood, which is great for those who prefer wood to plastic. I tend to look for open-ended games and activities, and that is exactly what I've found with these blocks. I've noticed many toys lose my children's interest quickly as there is only so much that can be done with them, but these offer creative play that can last for hours. My kids love playing with these individually or together to build gigantic buildings, "play houses" for their dolls, castles, roads, mazes - you name it! It also helps them increase their focus levels, especially when they're designing the more elaborate creations. My children are 6 and 8 and love these, but I could also see how younger children like four year olds would have fun creating simple structures too.
Buy this product at:
As an Amazon Associate we earn from qualifying purchases.