Academics' Choice Award™ Winner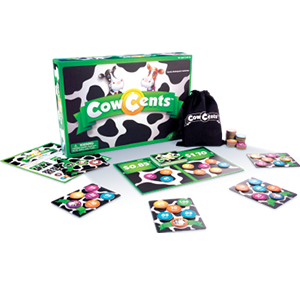 Cow Cents
Ages: 6 and up
Price: $32.00
Type: Game
By
SimplyFun
Description
MOOOVE your Money Tokens to the money pool to match the amount on the Goal card and the Money Tokens are yours! Donít worry if you canít make a total match, you can cash in your Cow Token and the pool is yours! Have the Money Tokens with the most dollar value at the end of the game and win!



Features & Benefits
Monetary Values
Adding and Subtracting Amounts
Adaptive Strategy
Review Highlights:
The game is easy to get started, simple, educational, and fun for the whole family. Players practice basic math skills (adding and subtracting) and develop observation, deductive reasoning and analytical skills. I liked that it required near-constant focus and attention to detail while allowing me to reinforce positive behavior such as good sportsmanship and sharing.
Buy this product at:
As an Amazon Associate we earn from qualifying purchases.