Academics' Choice Award™ Winner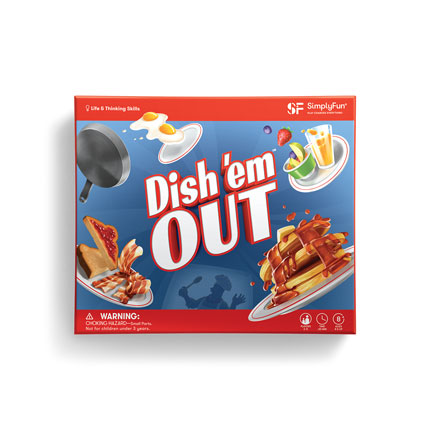 Dish 'em Out
Ages: 8 and up
Price: $36.00
Type: Game, Board Game
By
SimplyFun
Description
Rival diner owners hustle to seat and serve the morning rush of hungry customers that have arrived for breakfast. Different food types have longer cook times, so planning is everything. Players receive points for each successfully completed order and lose points for wasted food, incomplete or incorrect orders. The player with the most points when the flow of customers runs out is the winner.

2-5 players • 30 min • 8 & up

Skills Focus : Strategy, Planning

Review Highlights:
Dish 'em Out is an amazingly fun and addictive game for ages 8+. Our whole family enjoyed planning and strategizing how to choose and cook the appropriate foods to complete their order cards and score the maximum amount of points with no penalties. This game is very fast paced and entertaining for the whole family. Everyone was learning or practicing important life and thinking skills without even noticing it!
This is an awesome game for practicing strategy and planning skills.
Our family has more than 5 people, so we paired an older family member with a younger family member to form teams. This made everyone have to work together to achieve their goal, and it also made it very entertaining! Everyone laughed and giggled their way through the game and didn't even get upset if they lost. My husband even had a great time playing!
This game is great and I highly recommend it to everyone!
Buy this product at:
As an Amazon Associate we earn from qualifying purchases.