Academics' Choice Award™ Winner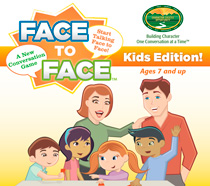 Face to Face for Kids
Ages: 7 and up
Price: $9.99
Type: Card Game
By
Harvest Time Partners, Inc.
Description
We created a series of conversation games called Abundant Harvest® and Face to Face™ that are Made in the USA.

As our world has become more connected with things like the internet, smart phones, and social media, today's "online chatter" has actually caused our families to become more disconnected and we are losing the critical life-skill of effective face to face communication. The patented (USA) and award winning conversation games called Abundant Harvest® and Face to Face™ help families and educators open the door to more effective communication, encourage decision making based on principles such as honesty, loyalty, and commitment with the intent of reinforcing the Law of the Harvest, simply, "you reap what you sow."
Review Highlights:
The Face to Face game for kids is a great tool for parents, homeschoolers and teachers alike to help develop a deep sense of morals and ethics in their children. Through discussion and dialogue the child expresses him/herself about a given issue and is then given a chance to justify their own perspective therefore deepening their own understanding of themselves and the world around them.
This is a perfect product to help build character in a young child. With all of the emphasis on skills, knowledge, and testing, I find this game to be a very valuable tool for any classroom.
Buy this product at:
As an Amazon Associate we earn from qualifying purchases.