Academics' Choice Award™ Winner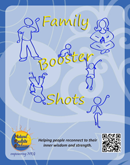 Family Booster Shots
Ages: 5 - 12
Price: $24.99
Type: Card Game, eBook
By
Empowering NRG
Description
Family Booster Shots provide creative ideas to help your family enhance relationships, boost creativity, strengthen pathways in the brain, teach emotional/social skills, increase awareness and have fun! Great for restaurants, travel, quiet time at home, dinner conversation and classroom or group activities. These durable laminated cards come with 52 activities as well as an e-book providing variations, age adjustment ideas and in-depth explanations for skills that require a deeper explanation. Fun for kids aged 3 – 15 and ideal for the 5 – 12 age range. Family Booster Shots help families ensure together time is quality time.
Review Highlights:
This card game is a wonderful way to explore the interpersonal and intrapersonal dynamics in a family. I've never seen a game that addresses the potential disconnect that can occur in a family if each member is not aware of the emotional changes of one-another. Family Booster Shots offers insightful ideas and fun exercises to explore this essential element in family life. I'd highly recommend this product to any adult with children that is interested in developing a child's emotional awareness of oneself and others.
Buy this product at:
As an Amazon Associate we earn from qualifying purchases.