Academics' Choice Award™ Winner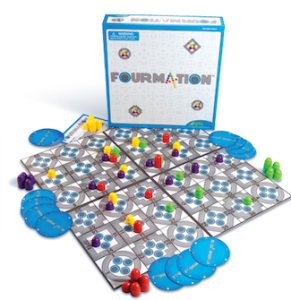 Fourmation
Ages: 8 and up
Price: $38.00
Type: Game
By
SimplyFun
Description
Fourmation is an amazing new game that elegantly combines math with strategy. The object is to connect four zones in a row: up, down or diagonally. But in order to place your colored marker, you'll have to make the number on the desired spot from the sum of one or more of the number cards in your hand. Outnumber all other players in a contested zone to put it back under your control and complete the winning "fourmation"! The game board can be turned and rearranged to create a different layout every time. This is a fun alternative to flash cards for upper level addition that your kids will love.
Review Highlights:
This game was engaging for my entire family. My kiddos repeatedly chose it for family game time.
I took great pleasure watching my loved ones improve their algebraic and predictive thinking skills. I particularly enjoyed that the game boards could be rearranged to create different layouts -making the game seem different every time we played.
Buy this product at:
As an Amazon Associate we earn from qualifying purchases.