Academics' Choice Award™ Winner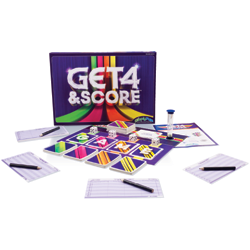 Get 4 & Score
Ages: 8 and up
Price: $32.00
Type: Game
By
SimplyFun
Description
Practice your quick recall and build vocabulary while you score points playing the Get 4 & Score game.

Players race against the timer to think up words that fit the category card and start with the correct letter!

Flip over the top card from each of the Four Letter Card decks and roll the dice to reveal their value. Reveal the top category card and flip over the timer. Players race to write four answers associated with the category and starting with the letter on each of the cards. Players reveal their answers and score points based on the dice rolled. After 10 rounds, the player with the highest score wins!


Review Highlights:
My family and I really enjoyed playing Get 4 & Score. My initial reaction to the game was that it was another version of Trival Pursuit, but it is so much more. Since there is no "right" answer whenever we got stumped with a letter we would take a break and check out the Internet to find suitable answers. We've learned lots of animals that start with the letter "V" now! We were more than willing to play a more rounds of the game. Although my 7 year old wasn't included in the game due to the spelling requirements, he did give us good ideas as we racked our brains for answers. The game can be easily adapted to accommodate all age ranges with minor modifications. My two girls (11 and 14) and I look forward to playing again tomorrow.
Get 4 and Score is a game in which you try to list items in a category that start with four randomly chosen letters. Each letter is worth a randomly chosen score (1-6 on a rolled die). For each item on the list that the group agrees is part of the category, you score the point value on the die. At the end of ten rounds, the highest total score wins.
...this is a good game for language development and critical thinking.
Buy this product at:
As an Amazon Associate we earn from qualifying purchases.