Academics' Choice Award™ Winner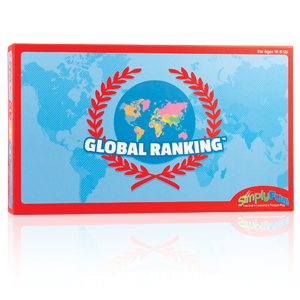 Global Ranking
Ages: 10 and up
Price: $30.00
Type: Game
By
SimplyFun
Description
Test your knowledge of Geography and Demographics. Tap into your knowledge of geography and demographics to predict the ranking of 51 countries across 10 different categories. Perfect for ages 10 and up.



Review Highlights:
This is a great family game, and would add tremendous value to any social studies class (played in small groups). Our entire family learned a lot about the countries of the world and their demographics (population, life expectancy, average age, size, distance from equator, etc.). We learned we didn't know as much as we thought. The game play method is fast and fun. You earn tokens when you answer correctly. First person with 10 tokens wins. Their are so many categories (chosen by the spinner) and country cards that you can play this game again and again without repetition.
The game opens up excellent opportunities to learn more about the world and discuss different cultures and locations. The game requires a fair amount of prior knowledge about different countries, but we found that our youngest (age 10) still enjoyed playing. He used a lot of deductive and inductive reasoning to make educated guesses. We offered hints as well to help, but what we found helped the most was having him explain his thinking when he got a correct or incorrect answer. Having him explain his logic for his decision was insightful and gradually we saw his thinking process improve. Now it's one of his favorite games. He's got a great memory so he beats his parents quite a bit.
I loved that my children need to think logically to make the best guess if they don't know enough facts about the other countries. My kids are older and I've been looking for a "memory" game that is not childish like flipping cards over. This fits the bill perfectly. Children have to remember facts about countries which is a bonus too! Great game to add to our geography course!
What I liked about this game is my kids are learning geography while having fun. No pencils, paper, or test, just having fun playing a game with mom and/or siblings.
Buy this product at:
As an Amazon Associate we earn from qualifying purchases.