Academics' Choice Award™ Winner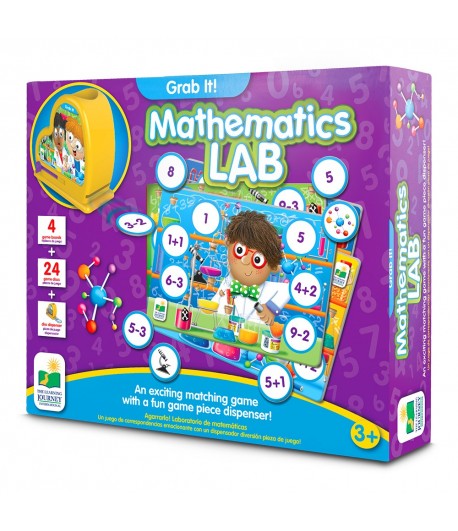 Grab It! Mathematics Lab
Ages: 3 and up
Price: $14.99
Type: Game
By
The Learning Journey International LLC
Description
Mastering simple mathematic equations will be more fun than ever. With fun science lab cards and dispenser, kids will push, launch, GRAB and match the answer to the equation. The Math lab playing cards display simple math equations. Players need to GRAB the answers to their equations as they are launched from the disc dispenser and place them on their playing boards. The first player to fill their game board wins the game. Game includes disc dispenser, decorative card, 24 number discs, and four playing boards.


Review Highlights:
Grab It! Mathematics Lab is a simple game to help children with matching (equations, numbers and images). I'd say it'd be good for 3, and some 4 year old children. It was definitely fun for my 4 year old. Easy set up and and take down, and the best part is that it promotes movement and quick thinking.
I liked the simplicity of it and I think the price is very fair. I also think the thickness of the chips would be great for a classroom setting considering the durability.
We enjoyed opening up the colorful cartoony box and setting up the game. We matched microscopes, jars and numbers. The game can either be used one-on-one or in a preschool setting.
Buy this product at:
As an Amazon Associate we earn from qualifying purchases.