Academics' Choice Award™ Winner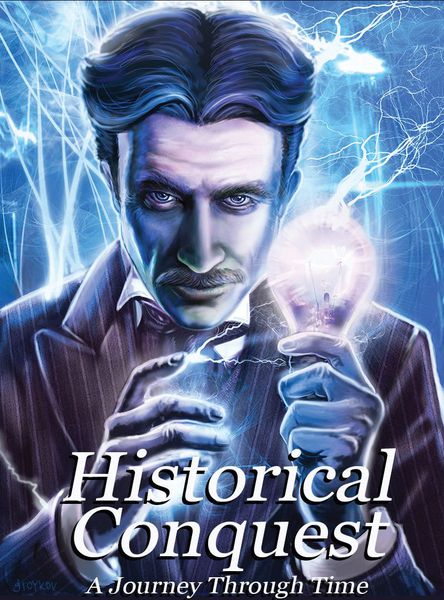 Historical Conquest
Ages: 7 - 16
Price: $16.99 per deck
Type: Game, Card Game
By
Historical Conquest LLC
Description
Historical Conquest™ is a unique and exciting card game in which players create personalized societies of heroes, villains, leaders, assassins, disasters, armies and more from history and battle them against one another. Each card is complete with fantastic illustrations and intriguing summaries of people, places, and events from history. The abilities of each card used in the game relate to the abilities these individuals actually had during their lives. Due to the diversity of the cards, the possibilities are endless! This game looks like Pokemon, plays like the board game Risk, but it's infused with all topics from history.

Over 30,000 copies sold throughout the USA and 5 countries.




Review Highlights:
In Historical Conquest, players battle each other using historical figures. The thing that is different is that each card has abilities similar to the figures "real life" abilities, but you are not limited as to the time they lived - so you can combine historical figures into your own personal "dream team".
This is an excellent way to learn about historical figures without the tedium of a formal curriculum. Game play was exciting and the historical information was absorbed as part of the play. Layout of information on the cards and graphics was outstanding. The quality of the cards and play mats was high, and I'd anticipate they'd last a long time.
The game was based on Pokemon and Magic the Gathering - so if you have a child that enjoys those games they will likely like this one. The historical facts are absorbed as part of the game play, since the card's abilities are based on the real character. I suspect this game would be especially interesting to boys, as they are more likely to be attracted to Pokemon and Magic in my experience - though it will be fun and absorbing for all. There are 7 different starter decks, and each player needs a starter deck to play. Each of these decks contains 50 cards of figures, places, events and artifacts from a mixture of times and places. There are also expansion decks available, which contain 20 cards focused around a specific time period (think Civil War or Ancient Rome).
The cards are like playing cards - thin with a shiny surface, so they should be long lasting. The cards have information on each character (name, when they lived, a brief bio, and the abilities and attack / defense value of the card). There are also optional 14" x 24" play mats. They are rubber-like flexible mats with a graphic on one side - similar to a thin mouse pad. A number of different designs of the play mat are available, but these are not necessary for play. A paper version of the play mat was also included.
The biggest learning in this game is historical information, especially about significant people and events. Strategy, reading comprehension, eye-hand coordination, planning, critical thinking, taking turns, math (addition primarily), and managing multiple objectives are all required and practiced during play.
Wow, there is so much educational information in this game! This is an ingenious way to play with history. After watching the handy how to play video, with a few trials, the game is pretty fun to play! With lots of ways to win (or lose!), the game does not get boring after a few plays. Each deck has completely different cards, making it a challenge to know how to attack the opponent each game. The game includes not just attacks and defense, but also morale, which is a concept not usually included in war-themed games. As soon as I opened the deck of cards, the family went through each one reading the brief, most interesting facts about each person in history. Nothing was fictional. They started many conversations. The game has a stunning mat to play on, if you so desire, that helps to organize the cards. Once we learned how to play, my kids enjoyed it and loved the complexity even though it didn't take very long to play, about 30 minutes to an hour. There are even ways to make the game shorter in time. The cards are high quality--stiff and sturdy. You can get several decks and use the best cards out of each deck to make your game better!
This is a fun way to involve history in the form of game. It would be a great "free-time" game in school.
Buy this product at:
As an Amazon Associate we earn from qualifying purchases.