Academics' Choice Award™ Winner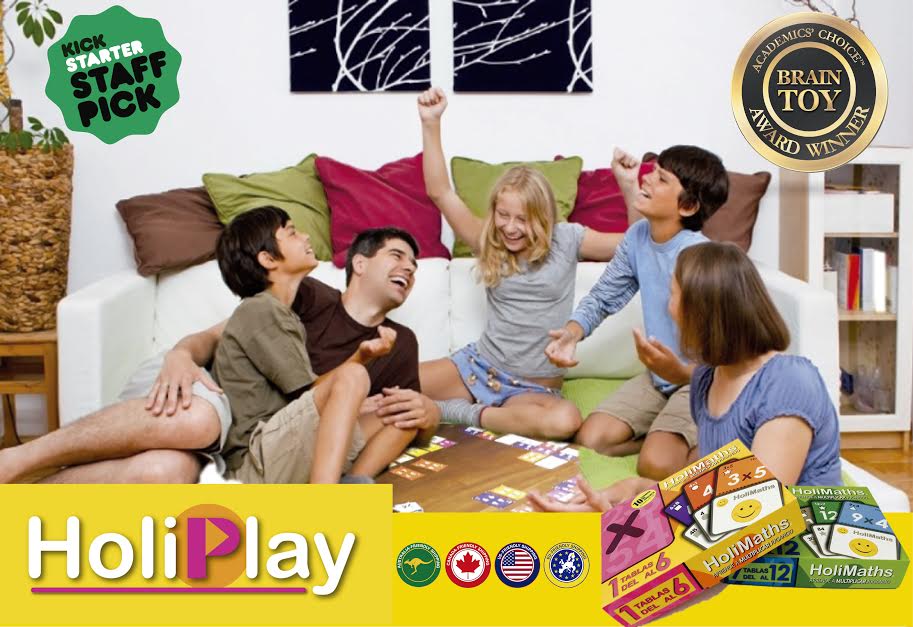 HoliMaths X - Multiplication Set
Ages: 7 and up
Price: $35.00 per unit ($70 for set)
Type: Game, Toy, Gear & Equipment (Multiplication Strategy Card Game)
By
HoliPlay Inc
Description
HoliMaths X - a family multiplication strategy card game - 10 ways to play it -1 to 6 players - 7 and up - two separate boxes: tables 1 to 6 and tables 7 to 12 - the games can be purchased separately

Innovative card game aimed to meaningful/significant learning - develops logical thinking - converts an individual learning process into a collective one generating social interaction - helps develop tolerance to frustration - promotes strategical thinking to solve problems - aimed for intergenerational integration involving parents and grandparents in a fun way for the whole family!

The main attributes of the games include helping/incentivizing early development of Higher and Lower Order Thinking Skills including creative and critical thinking in addition to comprehensive logical reasoning - Produces positive emotional engagement while providing the intended learning experience – Easy to learn, fast to start – Character building for the child involving honesty, responsibility, cooperation during play - High REPLAYABILITY values because of its 10 ways to play - HoliPlayers.com 10 lost cards Free-Replacement-Guarantee - Money back "No Questions Asked" Guarantee

Review Highlights:
This game is great! It's Rummy meets multiplication! The rules are similar too, but HoliMaths X offers a lot more opportunity for strategic thinking. I love that there are multiple ways to play the game with the same cards. Once you understand the rules to at least one of the games it's easy to play!
As the game encourages, we actually made up our own version of game with the cards, it ended up as a great learning experience! HoliMaths has 10 ways to be played and we tried them all. It's a fantastic family game, especially for families with children learning their multiplication tables.
HoliMaths develops all sorts of foundational skills such as logical thinking, strategic thinking, decision making and analysis. The Help Cards were a great asset for my youngest mathematicians - they leveled the playing field and allowed them to play with confidence. The competitive nature of the game turned memorizing multiplication tables into fun!!
I like that the bag was included to hold the cards. I appreciate the ability to have 10 different game options. I really like the bright colors.
Buy this product at:
As an Amazon Associate we earn from qualifying purchases.